Fund invests £9.5m in Haymarket office and retail development
The former goods yard in Edinburgh has lain empty for years and is currently used as a car park.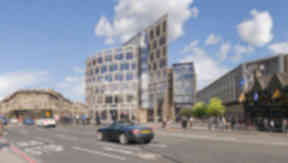 An investment of £9.6m is being put into a £200m development of offices, shops, bars and restaurants on an empty site next to Haymarket station.
The former goods yard in Edinburgh has lain empty for years and is currently used as a car park.
Construction company Interserve has joined forces with landowner Tiger Developments to build a complex of four office buildings along with retail and leisure space.
Work has started on the railway tunnels beneath the site, which is being helped by funding from Scottish Partnership for Regeneration in Urban Centres (Spruce).
Deputy first minister Nicola Sturgeon visited the site on Monday to announce the funding, which has been established with money from the Scottish Government and European Regional Development Fund.
Ms Sturgeon said: "The Haymarket is one of the biggest commercial property projects to take place in Edinburgh and will substantially regenerate this part of the capital, transforming derelict land and creating thousands of jobs and opportunities for growth.
"Significant city centre developments such as this one are central to stimulating economic growth across Scotland. It is vital that we support opportunities for new business to help create new jobs and also encourage inward investment to Scotland.
"The Scottish Government's investment through the Spruce fund has acted as a catalyst for the regeneration of this site. Without this investment crucial remedial work could not go ahead.
"Once complete, this fantastic multi-purpose site will provide much needed high spec office and retail space for the city as well as a new hotel for visitors. This will allow Edinburgh to continue to compete effectively with other large cities – and help to attract companies from across the globe."
David Westwater, from Interserve, said: "We are pleased that the Spruce Fund is investing alongside Interserve in this exciting project. We are delighted that work has begun on site to prepare for construction above ground and the Scottish Government's welcome contribution has been pivotal in helping the development to progress."
Planning permission was granted for the site in March 2011 but construction has been put off because of the recession. Interserve are investing £10.5m to get the project under way.
Tenants already signed up for the initial stage of the development include Tesco and serviced apartment providers Staycity. Prezzo and Pret A Manger have committed to a second phase. It is hoped the site will create 3500 jobs in the city when it opens in 2016.