Man found guilty of sex offences against two sisters in their home
James Thomson began his catalogue of abuse when one of the girls was eight years old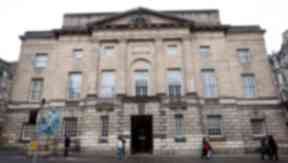 A man has been found guilty of sexually abusing two sisters in their home when one of the girls was as young as eight.
James Thomson, 54, fled to Ireland after the older girl reported him in 2008 for molesting her in Glenrothes, Fife, years earlier.
Social workers sent their mother on a course to teach her to recognise the signs of abuse, but prosecutors decided there was not enough evidence to take the case to court.
Thomson was only brought to justice when the younger of the two victims, now 18, came forward to back up her sister's story.
After a year-long battle to extradite him from Ireland Thomson appeared before a sheriff in Kirkcaldy in August 2012.
He stood trial at the High Court in Edinburgh on a string of charges dating back to October 2000, including rape, sexual assault and indecent exposure.
Advocate depute Peter Ferguson QC told the jury they had to believe the evidence of both sisters before they could convict him of anything.
He said the nature of Thomson's offences meant there were no eyewitnesses to the abuse. : "Sex offences, particularly against young children are covert and secret, furtive and disgusting things," Mr Ferguson said.
He went on to claim that Thomson "pursued what can only be described as a course of predatory conduct."
Solicitor advocate Krista Johnson, defending, told the court the older girl had a reputation for lying and had run away from home.
But the jury found Thomson guilty on seven counts by a majority verdict. One charge, alleging he pinned down one of the girls on a bed before raping her, was dropped during the trial.
Judge Edward Bowen QC called for a background report and remanded Thomson in custody pending sentence next month.