First World War soldiers to be given military burial a century on
The volunteers all died in the Battle of Loos, in northern France, in 1916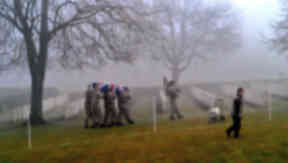 The remains of 20 British First World War soldiers, including a 22-year-old recruit from Fife, are being reinterred at a ceremony in France.
Private William McAleer is the only one of the soldiers whose body has been identified after they were discovered on the site of the Battle of Loos.
They will be laid to rest with full military honours 98 years after they died in the bloody trench warfare in northern France.
Corporal Pat McKinney, of the Royal Regiment of Scotland 2nd Battalion, whose great-grandfather fought in France, will be among the burial party.
He told STV News: "Even the modern-day soldiers who've maybe only been in the army a couple of months would still jump at the chance to come out here and remember one of their fallen comrades from years before."
The British forces at Loos initially managed to break the German line, but the enemy regrouped and drew them into a long drawn-out battle that left heavy casualties on both sides.
A total of 30,000 Scots volunteers took part in the battle and by the end 60,000 British soldiers were dead, wounded or missing.
Historian Trevor Royle said: "In the latter stages of the battle the German machine-gunners grew sick of the business of mowing down the British opposition and they stopped firing out of pity."
Professor Peter Jackson of Glasgow University's Scottish Centre for War Studies discussed the impact of the First World War on Thursday's Scotland Tonight show.