Soldiers killed during First World War buried 100 years after death
Among them was Private William McAleer from Fife, who was killed during the Battle of Loos in 1915.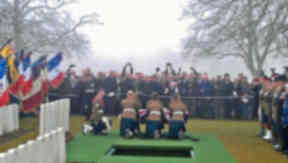 A Scot killed in action during the First World War has been laid to rest with full military honours along with 19 unidentified soldiers, almost 100 years after they died.
The soldiers, who perished in the Battle of Loos in 1915, were found in 2010 during clearance work for a new prison near Vendin-le-Vieil, north of Arras, in France.
Only one of the troops discovered has been identified - Private William McAleer, of the 7th Battalion the Royal Scottish Fusiliers, part of the 45th Brigade, 15th (Scottish) Division.
Born in Leven, Fife, 22-year-old Pte McAleer died shortly after the battle began. He was identified because his body was found with a small homemade metal tag with his name on it.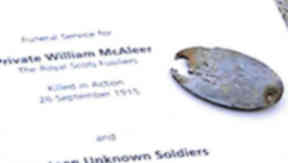 Dog tag: Homemade metal tag identified the body.
It is thought the young soldier's family emigrated to the United States, the Ministry of Defence (MoD) said.
Very little is known about Pte McAleer but it is known his father was a miner who died in a pit accident, and his mother later remarried.
Among the other soldiers who died and were found at the same time were a Northumberland Fusilier, another six Royal Scottish Fusiliers and a member of the York and Lancaster Regiment.
In addition, there were two Queen's Own Cameron Highlanders and nine others whose regiment has not been identified.
The remains of 30 German soldiers were also found nearby, and they were handed over to the German authorities.
On Friday, representatives from all the regiments with links to the British troops attended a reinterment service at the Commonwealth War Graves Commission Cemetery at Loos-en-Gohelle, near Lens.
Those who could not be identified were buried as soldiers "Known unto God" in front of more than 200 people, including Pte McAleer's great step nephew, Stephen McLeod, 47, who travelled from Scotland.
All 20 soldiers were given full military honours. Pte McAleer's coffin was given his own burial plot, with his headstone reading "13766, Private W. McAleer Royal Scots Fusiliers, 26th September 1915, age 22".
The remainder were buried in six other plots side by side.
In thick fog, a piper led six bearers as they carried Pte McAleer's Union flag-draped coffin topped with a wreath, belt and cap past the crowds and the burial plots of hundreds of other fallen soldiers.
A military firing party fired a salute during the service and the Last Post was played.
The Battle of Loos began on September 25, 1915 and was the largest conflict for the British Expeditionary Force (BEF) in the war to that time.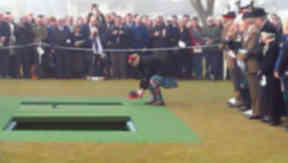 Tribute: Stephen McLeod from Fife lays a wreath at the grave if his great uncle Pte William McAleer