Girl dies after being crushed by wall at Edinburgh high school
A 12-year-old pupil, named as Keane Bennett, died after a wall at Liberton High School collapsed.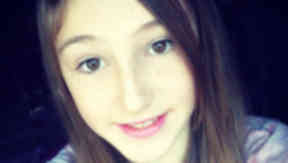 A girl has died after being crushed when a wall collapsed inside an Edinburgh secondary school.
A massive emergency response was prompted after the accident in which an internal wall at Liberton High School in Edinburgh fell on 12-year-old pupil, named locally as Keane Wallis-Bennett.
The incident happened at around 10am on Tuesday April 1. Police Scotland confirmed she was pronounced dead at the scene.
The wall was described as a "modesty wall" in a changing room in the school's gymnasium and other pupils were also in the area at the time. The girl's family have been informed by police.
Witnesses said that an ambulance, three fire engines, five police cars and a police serious incident vehicle all attended the school.
The comprehensive school in Gilmerton Road in the south of Edinburgh has a roll of around 650 pupils with 60 staff.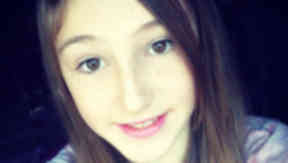 A police spokesman said: "At around 10am, Police Scotland and other emergency services were called to Liberton High School after a wall within the PE block collapsed, resulting in serious injury to a 12-year-old female pupil.
"Fire service crews and ambulance staff attended to the girl. However, she was pronounced dead at the scene. A multi-agency inquiry into the full circumstances surrounding this tragic incident is underway and we are continuing to work alongside our various partner agencies during this investigation.
"The girl's parents have been fully informed and are currently being supported by the relevant organisations. Our deepest sympathies are with them at this time.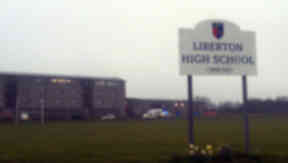 "Our thoughts are also with the pupils at Liberton High School who have lost a classmate and friend today. The school has been closed for the rest of the day while we continue with our inquiries. Further updates regarding the school and this investigation will be provided in due course. It would be inappropriate to comment further at this time."
Parents of pupils at the school were sent a text message by staff to inform them of the accident.
The message read: "Important — Accident at school. A pupil has sadly died Her parents are aware. No-one else is injured. Info to follow."
STV chief reporter Dave Cowan, who was at the scene, said a steady stream of parents were arriving at the school as word of the incident spread.
A number of pupils were also seen leaving the school, covering their faces with scarves and jackets. Several of them looked distressed. A policewoman was seen laying a floral tribute nearby.
City of Edinburgh Council said the school will remain closed for the rest of this week, except for any pupils seeking emotional support or for S4-6 pupils studying for upcoming exams.
A two-week Easter holiday for Scottish schools starts on Friday.
The Scottish Fire and Rescue Service said crews from Tollcross, McDonald Road, Liberton and Newcraighall were sent to a "collapsed structure" at the school.
A spokeswoman said: "Firefighters assisted ambulance personnel to remove a female casualty from a collapsed structure but sadly she was pronounced dead at the scene. Thoughts are with the family at this difficult time."
The Health and Safety Executive, which had a visible presence at the school on Tuesday, said it was liaising with police, while Edinburgh City Council said senior education staff and health and safety officers were providing support to staff and pupils.
A council spokesman said: "A pupil at Liberton High School has sadly died following an incident at the school. Senior education staff and Health and Safety officers from the council are at the school providing support to staff and pupils. An updated statement on behalf of the school will be issued later."
It is understood all pupils at the school were being kept in their classrooms but started being sent home at around 12.30pm.
Fellow pupils at the school expressed their shock and posted tributes on social networking sites.
The older brother of a pupil at the school also posted: "Thoughts go out to the young girl who passed away at Liberton High School this morning. My little sister was standing next to her. Shocking."
Local MP Ian Murray said: "It's an absolute tragedy for the girl's family. I hope an explanation into the circumstances is forthcoming quickly. Our thoughts are with her family, friends, staff and all those involved with the school. It's dreadful news."
First Minister Alex Salmond also added his tribute,
Shocked and deeply saddened at news from Liberton High. Visited school in December – thoughts today with family, pupils and staff.

— FM Alex Salmond (@AlexSalmond) April 1, 2014
According to the school's website, upgrading of the PE accommodation began in 1986.
A council report published in December last year found that the school was in need of "significant levels of investment" for upgrade work — costed at more than £1m.
The report recommended the "old gym" as well as lighting, external fabric and cladding be upgraded.
On Tuesday evening a council spokesperson announced a survey of "all similar walls in schools where we know that they exist".
The spokesman said: "Police investigations are ongoing, however we understand that the wall that collapsed was a free-standing modesty wall in a changing room.
"A full survey of all our schools, including Liberton High School, was carried out in 2012/13 and no concerns with this wall were identified. However, as a precaution, specialist council building services staff will be surveying all similar walls in schools where we know that they exist. The survey work will begin early tomorrow (April 2).
"As a further precaution, a full survey will be carried out on Liberton High School in the coming days before the main school building re-opens to pupils. Support for all pupils, plus tutorial support for S4 to S6 pupils, will be available in the school's new games hall for the rest of this week."
Last month, the council was fined £8000 after a pupil fell 16ft down a shaft after becoming trapped in a lift at the school in December 2011.
A 15-year-old became trapped in a lift with four other secondary pupils at Liberton High School on December 8.
When members of staff tried to rescue them, She fell through the gap between the bottom of the lift and the floor. She fractured three vertebrae, bruised her back and sprained her wrist when she fell to the bottom of the shaft. The local authority pleaded guilty to a breach of health and safety regulations.

View Liberton High School locator map in a larger map