Nationalist politician and campaigner Margo MacDonald dies aged 70
Lothians MSP was a pivotal figure in Scottish politics in the second half of the 20th century.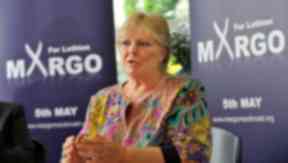 Veteran nationalist politician and independence campaigner Margo MacDonald has died aged 70.
The Lothians MSP was one of the pivotal figures in Scottish politics in the second half of the 20th century.
In recent years, she emerged as an activist for the right to assisted suicide, after revealing her own Parkinson's diagnosis in 2002.
Her husband, former SNP deputy leader Jim Sillars, said: "My wife Margo MacDonald died peacefully at home surrounded by her family today at 1.10pm.
"She leaves a void in our lives which will be impossible to fill and her death robs the Scottish nation of one of its greatest talents.
"She was without question the most able politician of her generation. Today the brightest light in the Scottish political firmament has gone out."
Mr Sillars said his wife's legacy would "speak for itself", adding: "She supported and inspired generations of idealists and campaigners who, like her, wanted Scotland to take its place in the world.
"Her talent acted like a magnet and she gave her time so freely to so many for so long."
While he said many would mourn her, he added: "The pain of loss will be borne most of all by those at the heart of her life - her children and her grandchildren. We will do all we can to honour her memory."
Ms MacDonald rose to national prominence when she won a shock victory for the SNP in the 1973 Glasgow Govan by-election, until then a solid Labour seat.
Although she failed to retain the constituency in the February 1974 general election, her status as a symbol of the rise of Scottish nationalism was already cemented.
She went on to become deputy leader of the SNP, serving from 1974 until 1979, but quit the party in 1982 over its expulsion of the 79 Group, a faction of activists who wanted to anchor SNP policy in socialism.
An engaging writer and adept public speaker, she carved out a career as a journalist and broadcaster, including stints at the BBC and STV.
After rejoining the SNP, she was elected as a list MSP for Lothian in 1999. However, her independent-mindedness clashed with the party's increasingly stringent policymaking and discipline regimes.
She was placed in an unwinnable spot on the party list and stood instead as an independent, a move that saw her thrown out of the party.
But her straight-talking and warm personality, as well as her endeavours on behalf of her constituents, had helped her build up a strong personal vote. She was returned to Holyrood in 2003, 2007 and 2011 despite an electoral system that favours parties over independent candidates. She failed, however, to be elected presiding officer of the Scottish Parliament in 2007.
She became identified with the investigation into the overspend on the Scottish Parliament building project and advocated "tolerance zones" to protect sex workers.
After almost four decades campaigning for Scottish independence, she found herself at the head of a new cause: arguing, lobbying and trying to legislate for the right of terminally ill people to end their lives.
Ms MacDonald had been diagnosed with Parkinson's disease in 1995, a condition she went public about six years later.
Her Assisted Suicide (Scotland) Bill was introduced in November 2013 and is currently at stage one in the Holyrood legislative process. A previous attempt was rejected by MSPs, but polls have shown broad public support for a change in the law.
Ms MacDonald was married to Jim Sillars, also a former SNP MP and deputy leader, and she shared with him a passion for radical politics and campaigning journalism. She had two daughters, Petra and Zoe, from a previous marriage.
STV's Scotland Tonight will broadcast a special programme on the life and legacy of Margo MacDonald at 10.30pm.