Scots author Iain Banks leaves £3.5m in will following cancer death
The writer died last July after announcing he was suffering from gall bladder cancer in April 2013.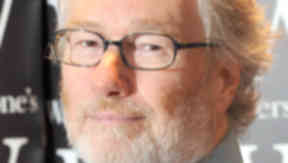 Scots author Iain Banks has left more than £3.5m in his will, it can be revealed.
Banks, from Dunfermline in Fife, announced in April last year he had gall bladder cancer and was unlikely to live for more than a year.
He passed away in June last year aged 59, leaving behind wife and fellow-author Adele Hartley, who he married only months before he died.
Papers from Glasgow Sheriff Court show that Banks' estate is worth £3,640,011 including his £480,000 house in North Queensferry, Inverkeithing and £2,100,000 of royalties.
His assets also include an archive of his manuscripts worth £300,000 and an £18,000 BMW M5 saloon. A number of bank accounts in England totalling £701,447 are also included in his estate.
His will requested that after funeral expenses are paid, a total of £14,000 is paid to various named people.
Banks also left his Orkney 5/20 boat and Mini Cooper car worth £10,000 to a Leslie McFarlane from Glenfinnan, near Fort William.
He directed the rest of his estate is to be left to his wife.
Banks' first novel, The Wasp Factory, was published in 1984 and ranked as one of the best 100 books of the 20th Century in poll by book chain Waterstones and Channel 4. In 2008 he was named one of the 50 greatest British writers by The Times.
The writer also penned sci-fi titles under the name Iain M Banks including The Hydrogen Sonata in 2012.
Prior to his death, he had asked his publishers to bring forward the date of his last novel, The Quarry, so he could see it on sale.The book detailed the physical and emotional strain of a man in his late 40s having terminal cancer.
But in a TV interview, Banks revealed he had already started the novel before learning he had the illness.