International campaigners join Edinburgh protesters
Members of Friends of the Earth from around the world have joined protesters at St Andrew Square.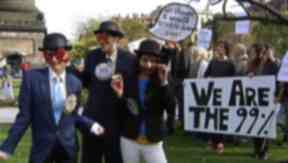 Environmental campaigners from around the world have gathered together to show their support for a group of Edinburgh protesters.
Occupy Edinburgh have been camped in the city centre since the weekend as part of a global movement against the economic system.
Participants of the Friends of the Earth International Board Meeting, which is being held in the capital, joined the protesters on Friday to show their support.
The campaigners, from Nigeria, El Salvador, Sri Lanka and South Africa, carried placards of support as they gathered in St Andrew Square.
Nnimmo Bassey, chair of Friends of the Earth International, said: "We stand in solidarity with this peaceful occupation. In our own countries, we see the devastating environmental and human rights impacts of corporate greed.
"People are finally taking to the streets here in Scotland to say 'enough is enough', and we welcome and support their campaigning."
The protesters welcomed the support, saying Friends of the Earth shared many of the same values as Occupy Edinburgh.
Eric Nelson said: "Friends of the Earth stand against actions that are virtually all carried out in the interests of the '1%', the financial elites. Regardless of how people agree with FoE, governments ignore them. We want a true democracy where everyone is heard."