Ian Rankin backs first ever Robert Louis Stevenson Day
Book give away, pithy quotes and the launch of a 'virtual trail' will help to celebrate the writer.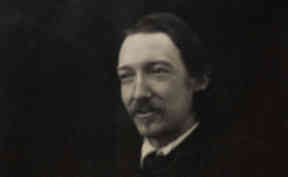 Ian Rankin is to share his enthusiasm for Robert Louis Stevenson as part of the first ever Robert Louis Stevenson Day.
The celebratory day has been established by The City of Literature Trust and Napier University as a means of raising the profile of both Edinburgh and one of the city's most well loved authors.
It will take place on Thursday the 17th of November.
During the day, "pithy" quotes from the writer will appear written on the city streets which inspired him. Free copies of Kidnapped and Jekyll and Hyde will also be given away on the day.
However, even if you are unable to go hunting around the city for Robert Louis Stevenson quotes, you will still be able to take part in the day. The Edinburgh UNESCO City of Literature website will also launch an online trail which organisers say will allow anyone to go for a "virtual walk in the footsteps of Stevenson."
The City of Literature Trust will also be tweeting more Stevenson quotes using the #rlsday hashtag.
And Robert Louis Stevenson fans are also being urged by organisers to don velvet for the occasion, as the author was himself known for wearing a velvet jacket.
The day is scheduled to conclude with a celebration event in the City Art Centre. At the event authors Ian Rankin and Nigel Planner will be amongst those who will be 'sharing their love' for Stevenson.
Organisers could not confirm whether either author will be sporting any velvet on the night.
Professor Linda Dryden, Institute for Creative Industries, Edinburgh Napier University has been involved in developing the idea.
She said "We at Edinburgh Napier University are delighted to be working with the City of Literature to launch RLS day in 2011. We are particularly thrilled to be able to bring together Nigel Planer and Ian Rankin for Thursday's Stevenson Evening at the City Arts Centre.
"This year is just the start of what we hope will be an annual event celebrating Stevenson's life, work and legacy in the city of Edinburgh."
IN DETAIL:
Edinburgh City of Literature Website
Photo: Monsterspade