British spy sent letters from Colditz to his family in Scotland
A total of 40 letters sent between 1941 and 1945 are to go under the hammer at Bonhams.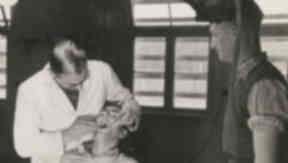 Coded letters sent home from a British officer working as a spy in Colditz during the Second World War are to be auctioned by Bonhams.
Army dentist Captain Julius Morris Green sent 40 missives to his parent's home address in Dunfermline between 1941 and 1945.
Green, who grew up in Killarney and studied in Edinburgh, was captured with his brigade of the 51 Highland Division at St Valery in June 1941 and spent the remainder of the war in a succession of camps, including the notorious Oflag IV-C – Colditz Castle.
While imprisoned, Green used his cover as a dentist to move between camps, taking notes which he then wrote out in the coded letters.
A Bonhams spokesman said: "The letters sometimes read like a caricature of a faulty language manual, and had the German censors employed someone with a native command of English they would have immediately spotted that something untoward was going on, a fact of which (as he tells us in his memoir) Green himself was all too aware.
"The risks he was running, as a Jewish prisoner-of-war in Nazi hands, hardly bear thinking about. Under the surreal humour of his letters lies horror and quite extraordinary bravery."
streampost guid="null"
Green was originally recruited by MI9 at the Ilag VII prison shortly after he was captured.
In 1944, the intelligence agency wrote to his parents to reassure them of his safety in spite of the risks he faced.
The letter read: "We quite understand your very natural anxiety regarding your son's intentions, however Capt. Green appears to be a young man of great resource and we think can be relied upon to handle the situation competently.
"Please try not to worry. We will do everything we can to help from this end and we have great confidence in your son."
The letters are expected to fetch between £4000 and £6000 when they go under the hammer at Bonhams' Knightsbridge branch on June 18.