Student volunteer blogs about impending journey to Uganda
Caeleigh Kean dispels the 'gap year' myths and tells STV Local about the effort involved in volunteering abroad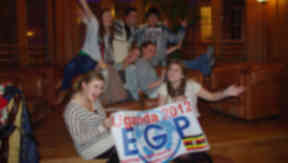 Caeleigh Kean is a 21-year-old Business Management student at Edinburgh Napier University. But this summer she plans to leave her studies far behind and journey to Uganda where she will help build a healthcare clinic with nine other members of the student-run charity, Edinburgh Global Partnerships. Here she blogs about the ups and downs of their preparation.
Every year Edinburgh Global Partnerships (EGP) conducts projects overseas but this is my first year of doing it. Some of the board members have been involved for two or three years and this year we've got groups going to Tanzania, Malawi, India and Uganda, where we're heading. The work we do tends to be in construction and working with people with HIV.
In order to do the projects we have to fundraise. When we have finally hit the target of £9900 we've been set the money goes straight to EGP and when we get out to the country we're going to we have to set up a bank account and the money is transferred. We fund ourselves getting over there - that's one of our big rules. Every single penny we raise goes to the building materials.
Luckily my parents were able to fund my flights, which are going to cost about £600. We have to work really hard, get part time jobs, so that we have enough for spending money and flights.
It's been very difficult even just raising the funds for materials. On Saturday we sold glow sticks to nightclubbers from 8.30pm to 5am, as well as doing a bake sale on the same day. This year we've also written to a lot of trust funds but it's been quite a challenge, they have generally been coming back with a rejection - obviously because we're in a recession.
We've got a couple of club nights coming up too but one of the clubs has told us that they're closing down. We're trying to keep our spirits up though!
It's more about the rewards than anything though. Yes, it does look good on your CV but it's a lot more than that. When we spoke to people wanting to come along we wanted them to show they were caring and not doing it for themselves.
Because only ten of us that can go on the placement we want to make sure we're going with the right people so we asked them interviewed them before them on board depending on how enthusiastic they were.
I think part of the reason I'm so excited about doing this is because I studied paediatric nursing before I started my current degree. We're so much more privileged in the UK than out there. Here we've got things like the NHS and ambulances.
I sort of know what I'm in for too because I did a volunteer programme in South Africa with Eye to Eye. But there are people coming who have never ever done anything like this before.
It's going to be a big challenge for them - there are a lot of small things in life that we take for granted. Even for me it will be difficult - when I was in South Africa we had a comfortable house.
This means so much to the group that's going. We've got a summer break so why not do something good with our time? We just want to go out, make a difference and save lives. We're all very enthusiastic.
Caeleigh and her fellow students are looking for donations for their journey. Examples of what money given can buy include a mosquito net for £4, a patient's bed for £20, one month's wage for mason for £100 and a solar panel for the clinic, providing sustainable power, for £200.
Donate to their cause on the EGP Uganda JustGiving page.
IN DETAIL