Thousands line the streets as Gumball 3000 rally comes to Edinburgh
Jonathan Ross and Xzibit were among the celebrity drivers in the international rally.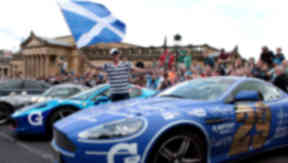 Celebrities and car enthusiasts came together in Edinburgh as the Gumball 3000 rally made a stop in the city.
The high-profile British motoring event sees drivers travel 3,000 miles on public roads around the world.
Thousands of people turned out on the city's streets to see celebrities including Jonathan Ross and high-performance cars from brands such as Ferrari, Aston Martin, Bugatti, Mercedes, Bentley and Rolls-Royce.
The TV host said: "I'm fully comp insured and driving rather like an elderly widow.
"I'm already petrified about scratching it -- that's why I took so long to park.
"How often do you get to spend a few days alone together and driving a fun car which isn't even mine.
"The car is worth over a hundred grand, so it's not one of the crazy ones here, but it's still worth silly money."
An estimated 125 luxury vehicles are taking part in the rally which started in Miami last week.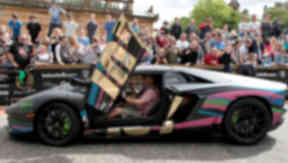 Other drivers include professional skater Tony Hawks, US rappers Eve, Xzibit and Bun B, UK rapper Tinie Tempah and former Baywatch actor David Hasselhoff who is expected to join in London.
Many of drivers flew their cars from New York City To Glasgow Prestwick, while others joined the European leg of the tour in Edinburgh.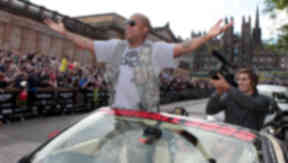 While the rally is considered a exhibition event rather than a competitive race, it has attracted controversy in recent years due to road traffic violations and speeding.
Two pensioners died in an accident in Macedonia in 2007 after their car was hit by a Gumball rally car.
The rally will continue through London, Paris, and Barcelona, before finally arriving on the island of Ibiza on June 11.