Record breaker splashes into Guinness Book for 133rd time
Ashrita Furman broke the record for the number of times a person was hit by a water balloon in one minute in Edinburgh.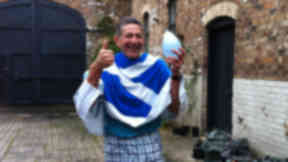 A man has smashed his 133rd world record by being hit by 20 water-filled balloons in the space of one minute.
Ashrita Furman currently holds the record for the most Guinness World Records held at the same time and has upped the number by one more.
In Edinburgh on Monday, the American health food shop owner broke the record for the "number of hits of a person by a water balloon in one minute".
He beat the minimum of 15 hits set by Guinness, who also stipulated that balloons must be at least one third full with water, five inches long and thrown from a distance of ten metres.
Mr Furman, 57, flew in from New York to complete the challenge, before travelling to Inverness on Tuesday to attempt his 134th record - number of jumps in a rope in five minutes whilst wearing flippers that are twice the length of his feet (current record 113).
Commenting on his success, he said: "I'm very happy because you never know how it's going to go until it happens. We practised two days ago in New York and the balloons were breaking much more easily, I think it was the temperature.
"I don't know how Guinness comes up with records to break, whether they have an office party and someone comes up with a crazy idea. I'm always doing research, looking for new things to."
Amongst his records, Mr Furman holds the most grapes eaten in three minutes, the most T-shirts torn in one minute and the longest continuous distance while balancing a baseball bat (nine miles), though he says his proudest moment was after pogo stick jumping 16 miles up Mount Fuji in Japan.
Mr Furman, who hopes to run a marathon while skipping a rope for his next challenge, says the key to his enthusiasm is meditation.
He said: "My whole motivation is mediation. I was never an athlete but discovered when I started meditating with my spiritual teacher, Sri Chinmoy, that I had tremendous energy. I go through the Guinness book and using the meditation I just do it."
The water balloon record was carried out in the courtyard of the Sri Chinmoy Meditation Centre, managed by Mr Furnam's friend of 30 years, Alan Spence.
He said: "The record was brilliant. On paper it didn't sound as powerful as some of the other ones he's done but he always brings a fantastic energy and makes an event out of it. There's so much doom and gloom just now so it's good someone's going around spreading a bit of joy."
IN DETAIL