Campaigners call on tougher enforcement against 'criminal landlords'
Edinburgh Private Tenants Action Group are lobbying the City of Edinburgh Council to take action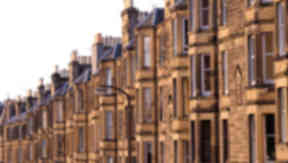 A group of activists brought together by bad experiences of private landlords have rallied to call on tighter laws to protect tenants.
Edinburgh Private Tenants Action Group (EPTAG) is launching a campaign for tougher enforcement against 'criminal landlords'.
Formed at the end of last year, the group was established to fight for the rights of tenants who suffer problems at the hands of private landlords, including withheld deposits, refusal of repairs and illegal evictions.
Now they plan to lobby the City of Edinburgh Council to effectively impose legislation on offending parties.
Allyson Macdonald, from EPTAG, said: "What brought a lot of us together was the fact we'd had problems with our own landlords, like unlicensed HMOs (House in Multiple Occupation) and illegal charges. What we're now hoping to do is campaign for better regulation of private sector landlords.
"This affects a lot of graduates and young couples, even families. The issue is particularly bad in Edinburgh as there's such a demand for rented housing because it's very expensive to buy. There are so many people who are desperate for a place to live that landlords will take advantage of."
By law, landlords are required to register with their local authority, but EPTAG have criticised the council's failure to remove anyone from it, claiming some people have continued letting properties despite previously committing criminal offences against tenants.
They refer to the case of Mark Fortune, who in 2010 was banned from renting out four properties in Edinburgh after verbally abusing council officials and tenants but last year was also fined £650 for threatening to shoot tenants at another of his flats.
Ms Macdonald added: "The council does have a duty to regulate landlords but they've never struck anyone off from their register, even people who have criminal records. There's a great reluctance to follow things up and to pursue landlords for what they've done."
However, representatives from the council claim they are taking appropriate action and, despite not striking landlords off the register, have withheld 252 of the 9438 applications made since January 2010 for further investigation.
In addition, the council has reported 80 offences involving unlicensed or unregistered properties since January 2010, resulting in 23 written warnings from the procurator fiscal, an admonishment from the court and a total of £3525 of fines for 18 of the offences.
Officials say the relatively small number of offences requiring prosecution is down to informal enforcement action.
Councillor Rob Munn, convenor of the council's Regulatory Committee, said: "The prosecution of landlords who show a blatant disregard for the registration and licensing schemes sends a clear message that this will not be tolerated. Such action will be welcomed by all tenants and law abiding landlords."
"Tenants have the right to a decent standard of living in a safe and secure home and landlords should make sure they provide this.
"The significant level of informal and formal enforcement activity in Edinburgh shows that we will take appropriate action against those landlords who do not comply."
EPTAG will hold a meeting to launch their campaign on Thursday, March 8 from 7pm at Old St Paul's Church Hall, Jeffrey Street.
IN DETAIL