MSPs back reforms to 'inefficient and expensive' justice system
The Courts Reform (Scotland) Bill aims to make access to the justice system quicker and cheaper.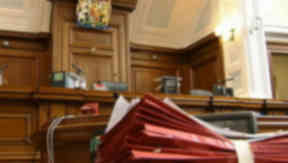 Measures to improve the "slow, inefficient and expensive" Scottish justice system have been backed by MSPs.
The Courts Reform (Scotland) Bill is designed to make access to the civil justice system quicker and cheaper, strengthening the powers of sheriff courts and creating a new specialist personal injury court to free up the Court of Session to focus on more complex cases.
The Bill was passed unanimously by MSPs, but opposition parties raised concerns that it could place additional pressures on "already overburdened" sheriff courts.
It is designed to reduce costs and delays for litigants, who currently have to take civil cases over £5,000 to the costly Court of Session for resolution.
It follows the recommendations of Lord Gill, lord president of the Court of Session, who described Scotland's courts as "slow, inefficient and expensive".
A national sheriff appeal court will be created to deal with summary criminal appeals from sheriff and justice of the peace courts, and civil appeals from sheriff courts.
A new summary sheriff will be appointed to resolve lower value civil cases such as debt cases more swiftly and efficiently, while also dealing with summary criminal cases.
Family, housing, personal injury and commercial law will also be assigned to specialist sheriffs.
Justice Secretary Kenny MacAskill said: "Lord Gill emphasised at stage one that these reforms are '50 years overdue'.
"The main principles of the Bill are that the right cases should be heard in courts at the right costs.
"Unnecessary delays to users should be minimised and the efficiencies of the court should be increased.
"The Bill should set a new exclusive competence for the sheriff court in order to remove a proportion of cases from the Court of Session so that it can focus on Scotland's most challenging and complex civil cases and develop the law.
"A new national specialist personal injury sheriff court will be created, maintaining a centre of expertise where personal injury cases from throughout the country can be heard.
"Other key planks of the reforms include further specialisation, a new sheriff appeal court and a new judicial tier in the sheriff court - the summary sheriffs - who use a new simple procedure facilitating easier access to justice."
The Bill will also allow Holyrood to "ameliorate" Westminster rules on compensation which "stack the deck in favour of those with the deepest pockets", Mr MacAskill said.
He said trade unions are "very worried about Section 69 of the Enterprise and Regulatory Reform Act, which forces litigants to prove not only the safety regulations were breached but that the company was negligent".
Mr MacAskill said: "We therefore supported John Finnie's amendments at stage two which will allow, where appropriate, health and safety cases of any financial value to be held by the specialist personal injury court."
Labour's Elaine Murray welcomed reform of the civil court system, but said the changes must not be motivated by "cost-cutting to the extent that they would be of the detriment to the court user".
"We are also concerned that these measures should not place additional pressures on the sheriff courts, which we are told ... are already overburdened," she said.
Dr Murray said she was disappointed that an amendment which sought to ensure that asbestos-related injury cases continue to be heard at the Court of Session had been rejected.
Campaigners from the Clydeside Action on Asbestos charity, which supports those suffering from conditions like mesothelioma, left the public gallery when MSPs voted down the Labour amendment.
Conservative MSP Margaret Mitchell said it remained unclear whether the criteria of increasing access to justice has been fulfilled by the legislation.
"At a time of declining court capacity, what isn't in doubt is that this Bill's provisions will further stretch sheriff courts which are already facing the prospect of losing 2,000 sitting days," she said.
"Worse still is that the Crown and Procurator Fiscal staff, victims and witnesses and those innocent people who have a case hanging over them will suffer further."
Liberal Democrat justice spokeswoman Alison McInnes MSP said: "Under this SNP Government sheriff courts in 13 towns across Scotland have closed within the last year, including those in Stonehaven and Arbroath in my north-east region. Four more will follow in January 2015.
"These closures appear incompatible with the transfer of business that this Bill will generate."