Controversial Leith biomass project cancelled
Forth Energy announces the decision as wind turbine manufacturer considers dock as base.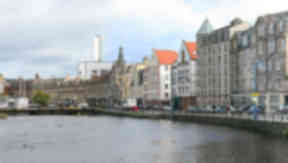 Controversial plans to build a large power station on Leith Docks in Edinburgh have been scrapped.
Forth Energy has announced they will withdraw an application for permission to build the 200MW biomass plant after two years of public opposition.
In a statement released on Thursday the company, which is a joint venture between landowner Forth Ports and Scottish and Southern Energy, said the decision was because of new proposals to develop the Port of Leith as a hub for renewable energy manufacture and the consequent demand for space.
Last December major wind turbine firm Gamesa confirmed that it was considering Leith Docks as the site for a new manufacturing base.
If Gamesa set up there, Forth Ports would be set to gain millions of pounds worth of public sector subsidy, at a time when the Scottish Government have threatened to cut money for large scale biomass power plants amid concerns over environmental and economic impact.
Commenting on the latest development, Calum Wilson, managing director of Forth Energy, said: "Much has changed since we first applied for permission to build a CHP plant at Leith, not least the Port's emerging status as a hub to support the Scottish offshore renewable energy industry.
"We remain fully committed to bringing reliable, responsible, renewable heat and electricity to Scotland through our proposed developments at the ports of Grangemouth, Rosyth and Dundee and, in the process, assisting the Scottish Government in achieving its ambitious 2020 renewable energy targets.
"Once the configuration of the Port of Leith has been established, we will re-assess the opportunity and industrial demand for renewable energy and heat at the Port."
Since applying for planning permission, Forth Ports have received widespread public criticism, with some 1800 people objecting to plans.
A No Leith Biomass campaign has also been set up, with opponents to the plant claiming it would have a negative impact on the environment.
Forth Energy now say they will reassess the potential for renewable energy production at the Port of Leith, which has been identified by Scottish Enterprise as Scotland's top location for renewables manufacturing under the National Renewables Infrastructure Plan.
Charles Hammond, Chief Executive of Forth Ports, said: "The level of demand from renewables companies keen to locate at the Port of Leith means that it is appropriate that we draw breath while we see how the land configuration at the port evolves.
"We are fully committed to supporting the Scottish Government's strategy for renewables manufacturing and our joint decision to withdraw this application at this stage will help to facilitate the Port of Leith's role as a renewables hub."