Owner starved dog to death before throwing body over fence
Darren Dallas, 27, has been banned from keeping animals for life after his treatment of Staffie Jack.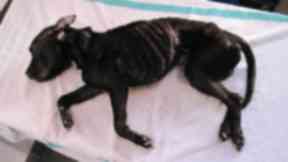 An owner starved his dog to death and dumped the body in a neighbour's garden.
Darren Dallas, 27, neglected his Staffordshire bull terrier Jack and did not take him to the vet. When Jack died, Dallas threw his body into his neighbour's garden in Whitson Road, Edinburgh.
He previously pleaded guilty to failing to provide adequate nutrition and necessary veterinary attention for Jack between an unknown date and January 8 last year.
On Wednesday, Dallas was given three years probation and banned from keeping animals for life at Edinburgh Sheriff Court.
The Scottish SPCA were called out to remove Jack's body last January and carried out the investigation which caught Dallas.
The dog had been less than half his ideal body weight when he died and had choked to death after finally being given food.
Scottish SPCA Senior Inspector Stuart Murray said: "This was a horrific case of neglect and the fact that Dallas dumped Jack's body like a piece of rubbish was sickening.
"We are pleased a life ban on keeping animals has been imposed as Dallas has demonstrated he is completely unfit to care for animals. This result also sends out an important message that owning an animal is a privilege and not a right.
"There is no doubt that Jack had suffered a great deal through Dallas's gross neglect. His body weighed under 9kgs, when a dog of his breed and age should have been around 20kgs.
"Pets rely on their owners entirely for their wellbeing and it is unacceptable for someone to ignore their animal while it suffers in silence."