Edinburgh's first outdoor gym opens
The facility, unveiled by Councillor Robert Aldridge, is convenient for commuters to Wester Hailes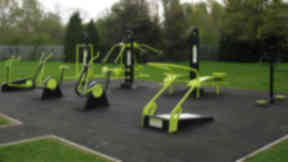 The city's first outdoor gym has been opened in Wester Hailes.
The state-of-the-art facility, which features 11 pieces of high-end cardio and weight-based sports equipment, will allow Edinburgh residents to work out in the open air.
Located in Hailes Quarry Park, the gym is placed next to the Union Canal, a popular walking and cycling route, convenient for commuters looking to increase their fitness.
The equipment is also aimed at local residents, who project leaders Edinburgh and Lothians Greenspace Trust (ELGT) hope will benefit from outdoor exercise, which studies have shown can help to improve mental and physical health.
Charlie Cumming, ELGT's Projects Manager, said: "The new Outdoor Gym is a fantastic addition to the facilities in Hailes Quarry Park. We have been working with communities in Edinburgh for many years to help them get fit and active by using their local parks, woodlands, community gardens and cycleways.
"This project brings a new dimension to outdoor activity in Edinburgh and we're delighted to have been involved in this city first. This is a great starting point for people who want to have a go at getting in shape, for free – an added bonus in these difficult financial times."
The gym was opened today (Friday) by city council environment leader Councillor Robert Aldridge, before volunteers from the Wester Hailes Health Agency demonstrated the benefits of outdoor exercise and showed the new equipment in action along with will a qualified fitness instructor.
Councillor Aldridge said: "I'm delighted to be opening Edinburgh's first outdoor gym in Hailes Quarry Park. This innovative new project is a way of bringing accessible, safe and easy to use fitness equipment to a wider audience.
"The gym will complement the fantastic facilities already on offer at the park and will encourage people of all ages to get fit whilst also getting some fresh air at the same time. My thanks go to all those involved for helping bring the project to completion."
The implementation of the gym was led in partnership between EGLT and the City of Edinburgh Council, with support from Wester Hailes Health Agency with funding from the council's Parks and Greenspace Department and Fields in Trust, via a £300,000 grant from WREN.
Peter Cox, managing director of WREN said: "WREN is committed to funding projects that make a real difference to local communities, children and families. The outdoor gym will provide Wester Hailes residents with a fantastic chance to get outdoors and have some fun while exercising. We're delighted to support Fields in Trust, the City of Edinburgh Council and ELGT to make this happen."
IN DETAIL