Edinburgh man urges others to take on letting firms after court win
Kuku Scott says tenants should not be "blinded by the paperwork," that some letting agencies use to justify extra charges after winning a court case against a local firm.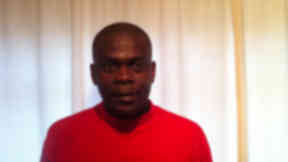 Kuku Scott brandishes a sheaf of papers filled with both pride and indignation, safe in his Wester Hailes flat.
It is just weeks since he was forced to take Morningside based property firm, Belvoir Letting, through the small claims court in order to get the company to return the £320 he paid them in fees for a flat he was never allowed to rent - and won.
And now that he has successfully got his money back, he is urging other people who may have been charged similar fees by their landlords not to become 'blinded by the paperwork.'
He said: "My advice to anyone who has paid an administration fee, even if you have signed a document agreeing to pay it, is that this document is not legally binding."
"All these fees are just ways to extract extra money from prospective tenants."
Mr Scott's story begins on August 3 last year when he walked into the offices of Morningside based Belvoir Lettings and paid a "£320 holding deposit," for a flat which staff told him would allow them to reserve the property whilst the firm ran credit and reference checks on him.
As soon as he had paid the £320 and filled out the paperwork Scott says that staff at the firm then started to ignore his efforts to confirm whether he would be able to move into the flat – despite making several attempts to contact the office by phone and email.
Nearly two weeks later, on August 15, the day when Mr Scott had hoped to move into the flat, he was told, for the first time, that the firm had decided that they would not let the flat to him because he had an income of less than £18,000 per year.
He was then told that they would only let him move in if he could now pay the deposit as well as six months rent in advance.
Furious with Belvoir, whom he claims failed to check his employers references properly or tell him at the outset that his income would not be sufficient to gain entry to the flat, Mr Scott, asked for his holding deposit back.
He also struck a deal with another landlord the very same day and moved into the Wester Hailes flat he currently lives in.
Mr Scott said: "I was so angry. I called the owner of my current house and I met him that day and moved into the house next day. Since then I have been on friendly terms with my current landlord and I have never defaulted on a rent payment."
Now with a roof over his head, Mr Scott continued to struggle to get a response from Belvoir over the outstanding £320.
It was not until August 17 that Mr Scott says that he was told for the first time that the £320 holding deposit he had paid was "non-refundable," because he had failed the firm's credit checks. He said staff told him then that the whole £320 was needed to cover the firm's administration costs.
"I asked them for a copy of my forms and I waited and I called them again. As soon as he heard my voice on the phone he banged the phone down. I was depressed. I sent him tens of emails and he never replied."
According to Mr Scott it was only when he threatened the letting agency with court action that the firm responded.
On August 31, almost one month after Scott first paid the 'holding deposit,' he returned to the Belvoir office expecting to be repaid in full. Once again, staff at the firm attempted to withhold some of his money.
This time they offered to repay £200 but insisted on charging him a £120 "administration fee."
But Mr Scott refused the £200 offer. Scott said: "I told him I want my £320 and then he demanded that I get out of his office. So I started the process of taking them to the small claims court."
Several court dates later, and with the support of both Shelter Scotland and the Citizens Advice Bureau, Belvoir finally agreed to repay Mr Scott the full £320 in February this year.
News of the outcome of the case follows in the wake of a survey released this week by local campaign group Edinburgh Private Tenants Action Group that revealed that the vast majority of letting agencies in the city appear to charge the controversial fees.
Now, Mr Scott says he hopes that other people that have paid similar fees will follow in his footsteps.
Mr Scott said: "Most people think about the time wasted. They wonder whether it's worth going to court three or four times over a few hundred pounds. And most people will worry about feeling like they have to study Scottish Law."
"But I hope many people out there when they read this will be encouraged and I hope more and more people will say to their letting agency, no I won't pay these fees."
"My advice is go for it. When you grab the opportunity it is joyous.
"It is one of the best things that has ever happened to me – representing myself in a Scottish court and winning my case against the letting agency."
A spokesman from Belvoir lettings said: "Mr Kuku Scott Wilson's tenancy application was unable to proceed as he did not meet the criteria required under our standard credit and referencing procedures.
"He was advised of the position personally by a member of the office staff on August 31 and immediately offered a cheque for the £200 which he paid as a 'refundable holding fee'.
"Mr Kuku Scott Wilson declined the £200 payment and demanded back all documentation relating to the application, citing 'data protection'. He was provided with all the requested documentation and he left the office.
"There was an on-going dispute which centred on the balance of £120 paid in respect of outlays, fees and third party costs incurred by the agent in processing his application and remarketing the property."
According to the firm's website, it charges administration fees to tenants.
IN DETAIL:
Advice on the Shelter Scotland website.