Bid to move Scottish Cup final away from Hampden to Edinburgh
Councillors want Murrayfield option to be explored but clubs and SFA back Hampden.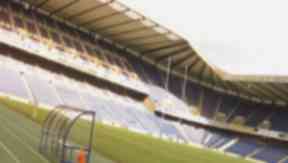 Politicians in Edinburgh have made a move to try and bring the Scottish Cup final between Hearts and Hibs to the capital.
Labour councillors at City of Edinburgh Council, Hibernian fan Gordon Munro and Hearts supporter Ricky Henderson have lodged a party motion to work to find a way to bring the final to the city.
However both clubs, as well as the Scottish FA, have indicated they are not interested in moving the match away from Hampden Stadium in Glasgow.
In a joint statement, councillors Munro and Henderson said: "Both our clubs will fill Hampden but we could also fill Murrayfield, which has a much bigger capacity and is much nearer for the majority of fans of both clubs.
"Murrayfield would make it more affordable for families when money is tight to attend."
The Scottish FA's stance is that no other stadium than Hampden would be considered for the final, which is the first to be contested by the Edinburgh rivals since 1896.
Both clubs have voiced their preference to keep the game in Glasgow's southside where the Scottish Cup final is traditionally played.
A spokesman for Hearts said the club would not consider any other stadium than Hampden, while Hibernian are also in favour of playing the final in Glasgow.
A Hearts spokesman said: "The William Hill Scottish Cup final is the jewel in the Scottish football crown and it is only right the showpiece is played at Hampden Park, the spiritual home of the game in this country.
"As such, Heart of Midlothian will not be considering any other venue for the game on May 19th for what will be a memorable occasion."
Hibs managing director Fife Hyland said: "Hampden is the home of Scottish football, and that's where the final should be."
Meanwhile, MSP James Dornan laid down a motion in the Scottish Parliament urging the SFA to ignore calls for the game to be played a Murrayfield.
Mr Dornan, whose Cathcart constituency is home to Hampden Park, said: "I wholeheartedly congratulate both Hibs and Hearts for reaching the final of the Scottish Cup.
"Playing at the national stadium in a national final will be something that many of these players will have dreamt about and it would be a shame to take that from them.
"Glasgow is a great city and Hampden is a great stadium. Both are ready and looking forward to welcoming both sets of fans when their teams take their place in the final on May 19."