Huge Olympic logo to be placed in Edinburgh city centre
The 26ft high symbol will be on display in the Scottish capital until October.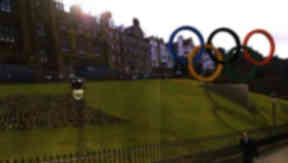 Permission has been granted for a huge logo of the Olympic Rings to be on display in the centre of the capital.
The 26ft high symbol was approved by City of Edinburgh Councillors on Wednesday after a previous application by the Department of Culture, Media and Sport to place rings on the castle was rejected.
Both the rings and the emblem of the Paralympic Games – the Agitos are to be raised to stand vertically on a platform on the Mound in the heart of the city.
The temporary structures, which cost £200,000 of public money, are due to be removed in October have not received full support.
Councillor Joanna Mowat said: "I do not like the rings but I am more worried about them setting a precedent.
"They will be on a vertical elevation on a raised platform and will infringe on the view to the Old Town if they laid them against the Mound I doubt there would be much objection.
"I do not like this halfway house of deciding to do something making a compromise that doesn't suit anyone.
"If we were braver, bolder and wittier we could have done something outrageous with the rings and put them where everyone could see them and didn't obscure views of the city."
Deputy council leader, Cllr Steve Cardownie said: "The Olympic Rings will have an impact in the city centre, some people will like it and some people might not."
Another  suggestion that the Olympics Rings take up residence at Hillend Ski Centre in the Pentlands was turned down by Midlothian planners.
Edinburgh will be involved in the run up to the London 2012 Olympics when the Olympic torch will pass through the city centre on June 13 before the Games begin on July 27 until August 12.
The Paralymics start two weeks later and come to an end on September 9.