Scuba diver who died fishing for clams was 'dubious' about dive
Jim Irvine died on his first job in Largo Bay near Leven Fife on March 24, 2011.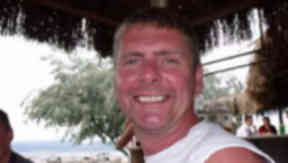 The widow of a scuba diver who died fishing for razor clams on his first underwater job said her husband had been "dubious" and "apprehensive" before the dive.
Hazel Irvine, 42, was giving evidence at the trial of Guthrie Melville, 60, who denies acts and omissions which led to the death.
Mrs Irvine said her husband, Jim, had been on a two-week diving course on a holiday in Turkey in 2010 but had never dived for shellfish before.
The former kitchen fitter had been laid off and was offered work diving for razor clams in the River Forth.
Mr Irvine, from Glenrothes, died in Largo Bay near Leven, Fife on March 24, 2011.
His wife told the court: "I was there when he got the phone call, five days before he died.
"He says it was Guthrie on the phone and he was getting a dive. A friend got offered the dive first and said he didn't want it, so my husband said he'd give it a go."
He was told he would be paid between £100 and £150 a day to work for Melville, who he had not met before.
She said: "He said he was going diving for shellfish. He said 'I don't know much about it, I'll give it a go, and if it's not for me I'll come back up the road'.
"He was quite dubious ... a bit apprehensive as he was told he was going down by himself.
"There'd be a net over a big area, and then he was putting rods in and bringing up razor clams. He said the rods were similar to cattle prods, and would give you a jolt, but not enough to do any damage.
"He said he had his knife if he got snagged."
She said she last saw her husband the night before the dive and got a phone call at work the next day to say the police were at her house.
She said: "The police said Jim had gone missing in Largo Bay. We kept in contact with them going back and forth all day, and the next day they said they had found him."
Her daughter Chloe Irvine, 18, also gave evidence at the trial.
She said: "I was a wee bit wary about it, so I was asking him lots of questions. I just had a bad feeling about it.
"He told me he wasn't going to be alone, there'd be somebody else with him in the water. He said it was a job - and he was going to be taking it."
Richard Irvine said his brother was "an exceptional, very strong diver", for whom safety was "paramount".
Melville, from Cardenden, Fife, faces a six-page indictment.
It is alleged he had responsibility for the diving project, arranged and directed the dive, and failed to take measures to comply with diving regulations.
It is alleged he failed to provide any equipment which would have assisted in getting Mr Irvine from the water and back on board the Solstice in the event of an emergency, or any equipment with which to monitor him while he was underwater.
He failed to ensure a standby diver was available or there were sufficient suitably-qualified people present to manage the dive and deal with any reasonably foreseeable emergency; and he failed to ensure Mr Irvine himself was suitably qualified, competent and medically fit to dive.
It is further alleged he failed to ensure Mr Irvine had an independent, secondary, source of breathing gas; failed to ensure he had a buoyancy aid he was familiar with; and failed to ensure he had a suitable means of emergency location, a suitable means of communication with the support vessel, and was attached to a life-life while underwater.
It is also said he failed to keep filters in an adequate condition on a compressor used to fill divers' air tanks.
In a further charge, it is alleged between April 2005 and March 2011, he failed to protect the health and safety of six other men he employed to dive for shellfish and attempted to defeat the ends of justice.
He pleads of not guilty to all charges.
Download: The STV News app is Scotland's favourite and is available for iPhone from the App store and for Android from Google Play. Download it today and continue to enjoy STV News wherever you are.
Join in: For debate, chat, comment and more, join our communities on the STV News Facebook page or follow @STVNews on Twitter.
Updates: Would you like STV's latest news update in your inbox every morning? Choose from our range of regular e-newsletters here