Fire service fined over death of firefighter at Edinburgh bar in 2009
Scottish Fire and Rescue fined £54,000 for failings which led to Ewan Williamson's death.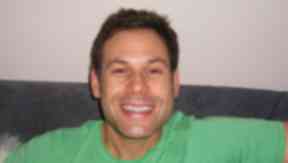 The Scottish Fire and Rescue Service has been fined after admitting health and safety breaches in connection with the death of a firefighter.
Ewan Williamson, who was 35, died as he tackled a blaze in the basement of the former Balmoral Bar in Dalry Road, Edinburgh, on July 12, 2009.
At the High Court in Edinburgh on Friday, Lord Uist fined the fire service (SFRS) £54,000 after they admitted breaches under the Health and Safety at Work Act last month.
The judge said a fine of £60,000 would have been imposed if not for their early guilty plea. In sentencing, Lord Uist said the case fell at "the lower end of criminal culpability".
His family has described his death as "unnecessary" and said the firefighter expressed his fears only a week before about crews' safety due to budget cuts.
He finished his sentencing by recording the "courage, dedication and professionalism" of Mr Williamson in carrying out his duty as a firefighter
The court heard last month how Mr Williamson had become separated from his colleague as they exited the smoke-filled bar.
They had been attempting to locate the blaze in the basement, but had retreated due to zero visibility and extreme heat.
They were following a hose line to find their way out of the burning building when they became separated.
It was discovered that Mr Williamson had become stuck in the men's toilets on the ground floor, which were located directly above the fire in the basement office.
A 'BA emergency', meaning firefighters wearing breathing apparatus are in trouble, was launched and several unsuccessful attempts were made to locate Mr Williamson before the building was evacuated after the floor collapsed.
His body was eventually recovered through a boarded up window.
He was the only firefighter in the history of the Lothian and Borders Fire Service (LBFRS), now the east division of the national service, to die while tackling a blaze.
At last month's hearing the SFRS pleaded guilty to a single charge and admitted failing "to have in place an effective system of radio communication" and failing "to have in place an effective system of implementation of procedures for firefighters using breathing apparatus" during the fire at the bar.
It also admitted failing to "adequately monitor and ensure attendance by firefighters at training courses" and failing to maintain accurate training records for them between July 13, 2008 and July 12, 2009.
It further admitted failing to "adequately train firefighters to ensure close personal contact was maintained during firefighting and search and rescue activities" in the same period.
Acting for the SFRS, Peter Gray QC told the court Mr Williamson was "very popular" and "highly-regarded" and said his loss was "felt deeply".
"It is a matter of profound and continuing anguish that Ewan Williamson's loss can be attributed at least in part to a failing in a system of work that LBFRS was responsible (for)," Mr Gray added.
"The loss of Ewan Williamson shook the close-knit community of LBFRS to its core. Six years on, his loss continues to be felt."
Following the sentencing Mr Williamson's family released a statement.
It said: "It is almost six years since Ewan died while attempting to fight a basement fire in the Balmoral Bar at Dalry Road in Edinburgh.
"He was part of a breathing apparatus team which had been recommitted to the basement only a very short time after their initial deployment.
"There was zero visibility and he became trapped in extremely hot conditions before the seat of the fire was located and before any water had even been applied to it. His death was unnecessary.
"Had well-recognised firefighting procedures been followed that night, then Ewan, and other firefighters, would not have been exposed to unacceptably high levels of risk."
It continued: "In the week before he died, Ewan visited his mother's house for a family meal. He told his family that he was worried about the lack of safety training being given to firefighters which he believed was due to budget cuts.
"He went on to say that it would not be long before these cuts led to the death of a firefighter. His words have been echoed by many of the firefighters we have spoken to since his death."
Scottish Fire and Rescue Service chief officer Alasdair Hay said: "Our thoughts, first and foremost, are with the family, friends and colleagues of Ewan Williamson.
"I appreciate it has been a very difficult time for everyone involved whilst the investigation reached its conclusion in relation to the incident which resulted in his tragic death.
"Our firefighters are committed to providing a first-class emergency fire and rescue service to the people of Scotland and working in dangerous and dynamically hazardous environments is an inherent part of their job as they deliver that commitment to serve their communities.
"Tragically, the dangers faced by our firefighters on that day resulted in the loss of Ewan's life and I apologise unreservedly on behalf of the service for any failing which contributed to Ewan's tragic loss.
"Ewan was a very popular and respected firefighter who died a hero in the line of duty at an incident where 16 people were rescued. His professionalism and sacrifice will always be remembered.
"I will now take time to consider the judge's comments and ensure that the Scottish Fire and Rescue Service, through its safer firefighter programme, is addressing the issues raised throughout this investigation and that all lessons are learned to improve the safety of our firefighters."
Download: The STV News app is Scotland's favourite and is available for iPhone from the App store and for Android from Google Play. Download it today and continue to enjoy STV News wherever you are.
Join in: For debate, chat, comment and more, join our communities on the STV News Facebook page or follow @STVNews on Twitter.
Updates: Would you like STV's latest news update in your inbox every morning? Choose from our range of regular e-newsletters here.