Who are the Edinburgh candidates for council elections 2012?
Nominations have closed and the vote will take place on Thursday May 3.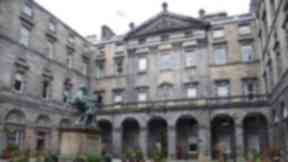 Registration for the Scottish Local Government Elections has closed and the list of Edinburgh candidates has been finalised for voting on Thursday May 3.
The City of Edinburgh Council have confirmed the list of candidates standing for election in the 17 wards across the capital after nominations closed at 4pm on Thursday March 29.
If eligible to vote you must register to do so by 5pm on Wednesday April 18.
There are some later deadlines for those applying to have someone vote on their behalf (by proxy) and further details can be found online.
Here are the Edinburgh candidates for the 2012 local elections:
Almond Ward (Three councillors)
Moira Dunworth - Scottish Green Party
Billy Fitzpatrick - Scottish Labour Party
Otto Inglis - UK Independence Party (UKIP)
John Longstaff - Independent
Lindsay Paterson - Scottish Conservative and Unionist
Alastair Gordon Shields - Scottish Liberal Democrats
Norman James Work - Scottish National Party (SNP)
Pentland Hills Ward (Three councillors)
Stuart Bridges - Scottish Liberal Democrats
Mike Professor Pongoo Ferrigan - Independent
Ricky Henderson - Scottish Labour Party
Bill Henderson - Scottish National Party (SNP)
Dominic Heslop - Scottish Conservative and Unionist
Sheila Catriona Dorothy Low - Scottish Conservative and Unionist
Phyl Stuart Meyer - Scottish Green Party
Drum Brae/Gyle Ward (Three councillors)
Robert Aldridge - Scottish Liberal Democrats
Steven Binney - Independent
Mark Brown - Scottish Conservative and Unionist
Ron Cairns - Scottish National Party (SNP)
Linda Hendry - Scottish Green Party
Karen Keil - Scottish Labour Party
Alison Lindsay - Scottish National Party (SNP)
John Scott - Independent
Forth Ward (Four councillors)
Steve Cardownie - Scottish National Party (SNP)
Cammy Day - Scottish Labour Party
George Gordon - Scottish National Party (SNP)
Ruth Ann Henderson - Scottish Anti-Cuts Coalition
Allan George Jackson - Scottish Conservative and Unionist
Kate Joester - Scottish Green Party
Seumas Stiubhard Macmhicean - Liberal Party in Scotland
Vicki Redpath - Scottish Labour Party
Tim Wight - Scottish Liberal Democrats
Inverleith Ward (Four councillors)
Nigel Bagshaw - Scottish Green Party
Gavin Barrie - Scottish National Party (SNP)
Scott Douglas - Scottish Conservative and Unionist
Lesley Hinds - Scottish Labour Party
Tim McKay - Scottish Liberal Democrats
Iain Whyte - Scottish Conservative and Unionist
John Young - Scottish National Party (SNP)
Corstorphine/Murrayfield Ward (Three councillors)
Jeremy Ross Balfour - Scottish Conservative and Unionist
Paul Edie - Scottish Liberal Democrats
Dominic Hinde - Scottish Green Party
Tom McInally - Scottish Labour Party
James Nisbet - UK Independence Party (UKIP)
Frank Ross - Scottish National Party (SNP)
Sighthill/Gorgie Ward (Four councillors)
Lindsay Ashford - Scottish Green Party
Susan Stewart Dewhurst - Scottish Conservative and Unionist
Denis Charles Dixon - Scottish National Party (SNP)
Catherine Fullerton - Scottish National Party (SNP)
Neil Maclean - Scottish Liberal Democrats
Eric Milligan - Scottish Labour Party
Donald Wilson - Scottish Labour Party
Colinton/Fairmilehead Ward (Three councillors)
Elaine Aitken - Scottish Conservative and Unionist
Eric Barry - Scottish Labour Party
Alan Beal - Scottish Liberal Democrats
Richard Lewis - Scottish National Party (SNP)
Malcolm Mackay - UK Independence Party (UKIP)
Jason Geoffrey Rust - Scottish Conservative and Unionist
Andy Saunders - Scottish Green Party
Fountainbridge/Craiglockhart Ward (Three councillors)
Andrew Burns - Scottish Labour Party
Gavin Corbett - Scottish Green Party
David Key - Scottish National Party (SNP)
Jim Lowrie - Scottish Liberal Democrats
Will Searle - Scottish Conservative and Unionist
Tom Strode - Liberal Party in Scotland
Meadows/Morningside Ward (Four councillors)
Jenny Dawe - Scottish Liberal Democrats
Paul Godzik - The Labour and Co-operative Party Candidate
Sandy Howat - Scottish National Party (SNP)
Phil Hunt - Pirate Party Scotland
William David Mitchell Macadam - UK Independence Party (UKIP)
Melanie Main - Scottish Green Party
Mark McInnes - Scottish Conservative and Unionist
City Centre Ward (Three councillors)
Iain James Coleman - Scottish Liberal Democrats
Karen Doran - Scottish Labour Party
Karen Michelle Hetherington - Liberal Party in Scotland
Julita Mazurek - Scottish Green Party
Joanna Mowat - Scottish Conservative and Unionist
Alasdair Rankin - Scottish National Party (SNP)
Leith Walk Ward (Four councillors)
Angela Blacklock - Scottish Labour Party
Miles Briggs - Scottish Conservative and Unionist
Deirdre Leanne Brock - Scottish National Party (SNP)
Maggie Chapman - Scottish Green Party
Nick Gardner - Scottish Labour Party
John Hein - Liberal Party in Scotland
John McArdle - Scottish Anti-Cuts Coalition
Jimmy McIntosh – Independent
Jamie Paterson - Scottish Liberal Democrats
Seumas Ross Skinner - Scottish National Party (SNP)
Alex Wilson - Independent
Leith Ward (Three councillors)
Chas Booth - Scottish Green Party
Irvine Wallace McMinn - Liberal Party in Scotland
Adam McVey - Scottish National Party (SNP)
Rob Munn - Scottish National Party (SNP)
Gordon Munro - Scottish Labour Party
Nicola Ross - Scottish Conservative and Unionist
Marjorie Thomas - Scottish Liberal Democrats
Craigentinny/Duddingston Ward (Three councillors)
Kevin Ferguson - Scottish Anti-Cuts Coalition
Joan Griffiths - Scottish Labour Party
Jason Lingiah - Scottish Conservative and Unionist
Alex Lunn - Scottish Labour Party
John Palmer - Scottish Green Party
Gary John Peacock - Scottish Liberal Democrats
Stefan Tymkewycz - Scottish National Party (SNP)
Colin Williamson - Scottish National Party (SNP)
Southside/Newington Ward (Four councillors)
William Black - Scottish Anti-Cuts Coalition
Steve Burgess - Scottish Green Party
Margaret Lea - Liberal Party in Scotland
Gordon Mackenzie - Scottish Liberal Democrats
Gordon Murdie - Independent
Jim Orr - Scottish National Party (SNP)
Ian Perry - Scottish Labour Party
Cameron Rose - Scottish Conservative and Unionist
Liberton/Gilmerton Ward (Four councillors)
Norma Austin Hart - Scottish Labour Party
Tom Buchanan - Scottish National Party (SNP)
Joan Carter - Scottish Green Party
Nick Cook - Scottish Conservative and Unionist
Bill Cook - Scottish Labour Party
Colin Fox - Scottish Socialist Party
Derek Howie - Scottish National Party (SNP)
John Christopher Knox - Scottish Liberal Democrats
Portobello/Craimillar Ward (Three councillors)
Mike Bridgman - Scottish National Party (SNP)
Maureen Child - Scottish Labour Party
Henry Thomas Christian - Scottish Conservative and Unionist
Norrie Davies - Independent
David Alistair Manson - Scottish National Party (SNP)
Peter McColl - Scottish Green Party
Martin Veart - Scottish Liberal Democrats
David Walker - Scottish Labour Party