Edinburgh 2012: Gordon Murdie promises to bring sense to the council.
Independent candidate promises to tackle 'feckless bungling' at the council if elected.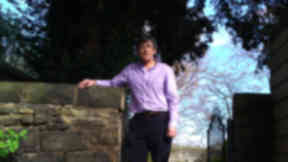 If there's such a thing as a celebrity Quantity Surveyor, then Gordon Murdie might be it.
In recent months his professional expertise has taken him right to the heart of the multi million pound statutory notice property scandal at the council. To suggest that he didn't like what he uncovered would be putting it mildly.
Now, the experience has made him so angry that he has decided to stand for election to the city council as an independent candidate in the Southside and Newington area of the city.
Over the last year Mr Murdie has appeared many times in the local media as an expert witness to numerous examples of what he calls the "feckless bungling," at the council's property services departments.
He said: "Statutory Notices were my initial motivation to stand, but when I started peeling the onion about the feckless bungling that had gone in that department I wondered what else was going on.
"The more I looked into it, the more I wanted to get involved and fix it, analyse it and bring some common sense to the table."
But woe-betide anyone who might think that his latest move is simply a clever publicity stunt. He insists that he has provided free advice to homeowners all over the city who have been affected by the statutory notice scandal.
He said: "The actual truth is that I'm running dry. I can give you a dozen cases and emails today from people that I'm helping for nothing. There's fire in the belly. This is so deeply wrong.
"There are people who have lost their homes. There are apocryphal tales of attempted suicides, people have had to put holidays on hold. People are unable to sell their houses.
"This work has cost me my business. And I've committed body and soul to this because nobody else was that bothered. People think I'm charging thousands of pounds for my involvement in this, but I haven't charged a fee this year."
"If people think I'm an ambulance chaser then hell mend them."
There may be fire in Mr Murdie's belly, but he would not describe himself as a political radical. In fact, he is keen to place himself firmly in the centre ground.
He said: "I'm definitely middle ground but with a gentle sway to the left or the right depending on the individual issue. For example, I criticised the four and a quarter million pounds spent over three years looking at privatising council services.
"I wouldn't have been minded to let that happen because there's nothing wrong with a good, motivated, loyal workforce, an appreciated workforce, delivering the basic services within the community.
"Certainly to go through a quagmire of term contracts, outplacement service contracts and monitoring – it would have been a difficult path and I don't believe it would have saved any money. And what would have happened to the families of the workforce of the council?
"And it was something that once done, would be difficult to undo without it costing. That perhaps is leftwing? But I don't think it is socialist thinking, I think it's common sense."
In fact his belief in non-partisan "common sense" runs through his pitch as an independent candidate. Asked what role he could play if he were elected to the city chambers he says simply: "I think I would play a role of common sense."
"I've to be convinced that national party politics have any role whatsoever in running a local council.
"Of course, just because I'm an independent doesn't mean I don't have political views. But when you see where the five parties and their 58 representatives have got us I think it's time for independents.
"Power is not my meat and drink. Whatever role I would play would be a role driven by common sense and honesty and representing the people who hopefully will be kind enough to vote for me.
"I think being a councillor is a very personal relationship and I'll be serving the people who elect me. I won't be serving a political party.
"Once you think along common sense lines, the needs of the people are not what a party tells me to think.
"I've not been a great one ever for being told what to do, and doing it without question."
And so although Mr Murdie has gained some public profile through his work helping people navigate their way through the council statutory notice scandal – he pledges to bring about more transparency to homeowners affected by this issue - he is at pains to point out that he is not just a single issue candidate.
He would not scrap the tram project now and insists that all those involved in the mismanagement of the project should "hang their heads with shame." With the right management at the top he believes it could have been built on time and on budget.
And he is also keen to improve the standards of care elderly people receive in the community. He would like to introduce more district nurses and find ways of involving more local volunteers in elderly care.
In his election leaflet Mr Murdie highlights several examples, both large and small, of council spending that he feels could be cut before reductions are made to front line services.
He said: "Budget cuts may just be a myth. If you can afford to spend half a million pounds on legal fees defending the indefensible - which the council did on equal pay - and then having to pay out the inevitable million pound settlement to female workers, who weren't being appropriately paid.
"If we can spend that half a million then there's no budget difficulty. If we can save that half a million pounds we're saved from having to make cuts."
"They could forsake bottled water at the council and save another £174,000.
But he is also critical of other councillors' suggestions for raising cash to offset the forecast reductions in income from Holyrood.
He said: "What I find incredulous, if it's true, is that there are even suggestions that we sell the Lord Provosts number plate.
"I'd remind the people of Edinburgh that that was gifted to the people of Edinburgh. We're the capital of Scotland, we're not appearing in the latest edition of Cash in the Attic.
"What do we do next? The cups, the saucers, the plates? There's many other ways to cut the wastage at the council. Do we sell the City Chambers and get a few portacabins? There's a saving? No, people ought not to be silly.
"It's a responsible post being councillor and the most alarming thing about it is that it doesn't seem to require any particular expertise or qualifications.
"My starting position is that we have enough revenue. The council spends about £1billion each year. That should be enough to deliver most services without waste.
Although Mr Murdie may have taken to politics as a result of his involvement in the city-wide council property repairs scandal, he has chosen to stand in Southside and Newington ward because it is where he lives now and where he grew up.
On local issues he says he is unimpressed with the new 20mph zone that the council has set up and would prefer to see genuine investment in dedicated cycle lanes throughout the neighbourhood and 20mph limits extended beyond the quieter residential streets of the Southside.
But overall, he says he doesn't know of any big overriding local issue that is affecting the neighbourhood.
He said: "I'm not aware of anything in particular that people of the Southside and Newington Ward want other than a pleasant, well maintained, safe environment to bring up their children, to educate and nurture the young and to care for the elderly."
Mr Murdie is one of the eight candidates standing for election to the City of Edinburgh Council in the Southside and Newington Ward.
Four candidates will be elected from the ward using the Single Transferable Vote system.
IN DETAIL: