Scottish National Portrait Gallery shortlisted for art prize
The gallery reopened in December after a two year £17.6m renovation project.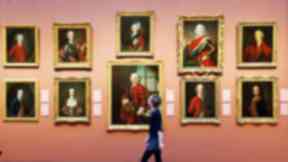 The Scottish National Portrait Gallery has been shortlisted for the UK's museum of the year.
The gallery, which recently had a £17.6m renovation, is in the final four for the 10th annual Art Fund Prize.
It is up against the new Hepworth Wakefield in Yorkshire which opened last May, Royal Albert Memorial Museum and Art Gallery in Exeter and Watts Gallery in Surrey.
The winner, which will be announced next month, will win £100,000.
Lord Smith of Finsbury, chair of the judging panel, said: "Whittling ten really strong nominees down to a list of four was a supremely difficult process, and I've no doubt that deciding on a 'museum of the year' from this list will prove equally tough."
Stephen Deuchar, director of the Art Fund, said: "Taken together, these four terrific institutions offer the perfect snapshot of the best of our museums and galleries - dynamic, forward-thinking, inclusive and diverse. The Art Fund Prize judges have an extremely difficult decision ahead of them to select a winner."
The Scottish National Portrait Gallery reopened in December after two years of renovation. The building was restored to its original glory and gallery space was increased by 60%.
The Queen Street gallery is home to 300 paintings and sculptures, 25,000 prints and drawings and 38,000 photographs of some of Scotland most famous people. More than 600 exhibits are new to the portrait gallery, with 211 having never been shown in public before.
IN DETAIL