Bound for a pound with robotic wedding machine
'Do you take this woman to be your wedded wife? Press one for 'I do'. Press two to escape.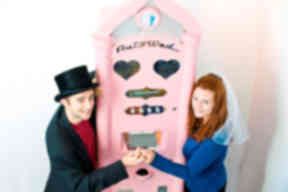 Dearly beloved, we are gathered here today, to witness if not the most bizarre, then certainly the cheapest, wedding ceremony.
Today, Edinburgh marks the arrival of AutoWed - a 21st century marriage machine which, for less than the price of a bus ticket, allows you and your partner to join yourselves together in wedded bliss.
Probably the most romantic vending machine you'll ever see, the sugar pink contraption will, for the price of £1, blare out a symphonic wedding march, ask you to take your electronic vows, then spit out two rings and a wedding certificate just as you ready to say your 'I do's'.
Set up at Camera Obscura and World of Illusions, the exhibit appeared on last nights episode of Dragon's Den, where dragons Deborah Meaden and Peter Jones tied the cut-price knot.
Andrew Johnson, director and manager of the Camera Obscura and World of Illusions, is excited about the prospect of speedy romance.
He said: "With weddings becoming increasingly expensive, we spotted a gap in the market for couples to make a quick, inexpensive commitment to each other.  We hope AutoWed will witness the beginning of many long-lasting relationships for years to come.
"While the wedding may not stand up in a court of law, it is a very romantic way to end a visit here, and in the first day of operation, it was certainly prompting couples to consider their longer term plans together.
"We are looking forward to hearing about the first couple's proposal and to welcoming their offspring in the years to come."
Looking a bit like a blinged up parking meter that's been shot by Cupid and tasked with handing out love, the machine is the latest in a line of creations from British designers Concept Shed.
The group have already come up with mood monitors, a Gin & Tonic tide machine and a renewable energy powered Frankenstein.
Following the AutoWed ceremony, couples are also automatically printed a 10% discount voucher on 'AutoDivorce', should the relationship turn out to be none to sweet.
Please note: marriage ceremonies performed by AutoWed are not legal and will not hold up in a court of law.