Stanley Odd put the hip hop into Celtic Connections 2013
Solareye from the Edinburgh rap collective explains why performing with the Electric String Orchestra is a dream come true.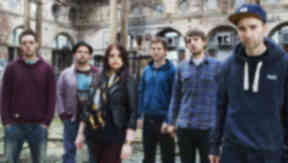 When you think of Celtic Connections you might think of fiddles, pipes, drums or even world music – not rap and MCs.
But one of Scotland's biggest hip hop bands is preparing for a triumphant return to Glasgow's folk festival.
Stanley Odd will be playing tracks from their latest album Reject with the 12-piece string section the Electric String Orchestra on January 23 at the Old Fruitmarket.
Frontman of the Edinburgh-based band, Solareye, said: "To be honest I didn't think anyone would ever ask us to Celtic Connections because we're rap and it's a folk festival, so it was amazing to be invited in the first place.
"They champion so much Scottish music rather than just sticking to a genre.
"Last year we spent a few weeks there and got to see a lot of other people that were playing really diverse music.
"To get asked to come back is brilliant and the fact that we get to play with the Electric String Orchestra is something musicians dream of.
"I think it's one of the biggest festivals of its type, it really encourages you as an artist to showcase your work to people who might not have seen you before. It gives us that platform to win over people."
Ahead of Celtic Connections, Stanley Odd are releasing their next single, Carry Me Home, on January 21.
It's the third single to be taken from the band's recent Reject album and features The Cairn String Quartet, the women behind The Electric String Orchestra.
The alternative hip hop group are fresh from impressing an industry panel and going on to win the Nordoff-Robbins Music Therapy in Scotland Big Apple Award.
Following a live showcase at the Garage 2 in Glasgow, the band will perform at the Bowery Ballroom alongside The View in New York City as part of Scotland Week.
Solareye said: "Being selected for the Big Apple Award and representing Scotland during Tartan Week is an amazing opportunity. Getting to play at such a classic venue as the Bowery Ballroom in New York, the home of hip hop, is just unbelievable.
"I feel like the Scottish hip hop scene is in really good health at the moment, across the country there are people making music to a high standard in very different styles and with lots of originality.
"There's lots of great stuff happening but I'd like to see several acts on bills which are not just niche and hip hop specific."
The year 2012 marked the release of Stanley Odd's second album Reject but it's also been the year that Solareye brought out his own solo EP.
Featuring collaborations with Dunt, Harvey Kartel as well as MC Louie from Hector Bizerk and Tickle from the Black Lantern Records The Pageant was released on digital download in November.
Solareye said: "It's been a strange one we've done so many different things, from Celtic Connections through to playing at the Belladrum and Wickerman festivals and getting the album out.
"My band is my number one priority, it's quite scary doing solo gigs when you're used to playing with a whole bunch of people.
"Lots of MCs do it all the time, but having everyone on stage is quite comforting. I felt a bit exposed but it was great fun doing it, it gave me the chance to do something different.
"In 2013 there will be lots of Stanley Odd stuff, we are looking at a new album already but I genuinely don't think it will be before 2014, we want to spend a bit longer working on it."
To book tickets go to the Celtic Connections website.