Sing and dance away your Winter Blues this January in the Jazz Bar
Start the New Year with a month of music at The Jazz Bar with a variety of gigs throughout the evening.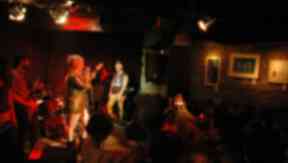 Start the New Year at Edinburgh's Jazz Bar with a live gig every night in January.
With gigs starting at 6pm and ending at 3am, you can indulge in supporting your local music scene and enjoy a great night of entertainment.
If you're not looking for a late night, there are gigs most nights from 6.30pm to 8pm.
Initially when the bar opened in 2002, the focus was mainly on jazz, yet the venue established itself as a fantastic performance space in the City for artists of all genres.
The Jazz Bar is also a very popular place during the Edinburgh Festival.
The bar quickly attracted those from a wide variety of music spectrums bringing a varied audience to go alongside.
After only seven months of opening, the historic old town venue was struck by the Cowgate Fire and was completely destroyed.
Due to financial complications, the Jazz Bar no longer existed in the City until 2005 when the public helped resurrect the venue by donating funds and helping with the re-fit, proving there was a demand for the its return.
Now with the public's support, the venue has returned to providing live music nightly for the past eight years.
The line up at The Jazz Bar changes daily with free teatime acoustic sessions from 6pm most nights with singer/songwriters for a laid-back acoustic session.
On the weekend, you can expect acoustic sessions, a jazz bar quintet and 'Late N Live' – a later gig option with music starting at midnight.
This month's line up includes a wide variety of funk, pop, rock, blues and jazz.
Regular appearances from Blues duo Hot Tin Roof take place on Sundays from 6-8.30pm with an intimate stripped-back original and cover session.
On Mondays throughout January, The Jazz Bar's 17-piece big band will take to the stage. The band is known for making weekly appearances at the venue and with four trumpets, four trombones and five saxes, it is a jazz delight for all. The night provides an open rehearsal from 8-9pm and a full gig from 9.15-10.45pm, all for just £4 giving you an insight into the pre-stage preparations.
On Wednesday, January 23 you can catch another open rehearsal as Edinburgh University's 17-piece Jazz Orchestra practice from 4pm to 6.30pm. This will give you a chance to catch up and coming talent in a no pressure environment.
Entry is cash only and tickets are available on the door.
All proceeds go directly to the musicians, proving a unique approach in helping sustain local music.
Ticket costs for each session are priced as little as £1, so you do not need to fret about the hefty price tag for a night of local live music.
The Jazz Bar is situated on Chambers Street and a full gig listing for the month is available online.