Meet a martian on your way to Mars at Our Dynamic Earth alien invasion
Star Wars props and Doctor Who costumes all part of out of world experience at Our Dynamic Earth Easter spectacular.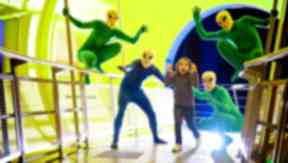 Martians appear to have got lost on their way to collecting their Easter Eggs and crash-landed at Our Dynamic Earth.
Alien Invasion is a new exhibition taking place at the Holyrood Road attraction and features 35 pieces from science-fiction classics like Star Wars and Doctor Who which will be scattered around the entire venue.
The venue's ShowDome is also being turned over to creatures from another planet. Rendered animation We Are Aliens will be screened in the newly upgraded 360 degree screen which explores the journey of finding alien life in our galaxy.
Eilidh Massie, Marketing Manager at Our Dynamic Earth, said: "We were keen to introduce a new activity for the Easter holidays and have something different.
"We decided on the concept of aliens and we will have both sides to the intergalactic experience.
"The ShowDome film will showcase the scientific side about life on Mars and this will contrast with the popular image of aliens from television and film exhibiting 35 pieces and characters from popular movies."
From Darth Vader to Chewbacca, Marvin the Martian to Predator, there are science fiction characters we have all grown to love featuring in the exhibition.
Each character will greet you at a different part of the tour and as you reach the darkness of the ShowDome there will be some special guests awaiting your arrival.
Once inside you will watch the animation which is narrated by Harry Potter star Rupert Grint.
Eilidh said: "It is asking people the question if you think aliens exist and about life out of earth.
"It leaves it open for visitors to make up their own mind which is what Our Dynamic Earth is all about. We provide the information and let everybody make up their own mind."
The ShowDome is the only theatre of its kind in Scotland and has recently undergone a refurbishment including new seating and lighting in the space.
Around £250,000 has been invested into this distant planet experience. But we do not have to be fans of all things out of this world to enjoy this one.
Eilidh said: "I think the key thing about it is that it will suit everyone.
"It is open to a wide audience and it is visually very good so even if you have no interest in science fiction, it is incredibly cool to look at."
The exhibition will run from now until Friday, June 28 and the film will screen at regular intervals throughout the day until Sunday, June 30.