Edinburgh biggest contributor per person to UK economy
Study found Edinburgh remains a top player in the UK economy, even when compared to crisis-hit London.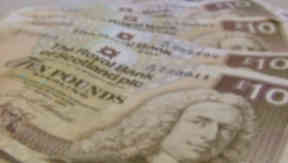 Scotland's capital contributes the largest income per person to the British economy, according to a recent study.
Accountancy firm UHY Hacker Young's analysed official calculations of Gross Value Added (GVA) - the measure of a region's contribution to the UK economy according to the value of the goods and services it produces.
It found Edinburgh remains a top player in the UK economy, even when compared to London. GVA in England's capital fell from £34,964 to £34,779, a decrease of 0.53%.
Marc Waterman, Partner at UHY Hacker Young, said: "For years London easily outpaced other UK towns and cities in its economic contribution, driven by its huge wholesale financial services industry.
"But the credit crunch hit this sector hard and has damaged London's ability to generate wealth for the economy.
"Although Edinburgh also boasts a large financial services sector, it was never as dominant as London's and so the downturn did not have the same devastating result."
"Thousands of high-paying banking jobs, along with advisers, such as lawyers, have been shed in London. The capital also has significant areas of poverty and high unemployment."
Jim Eadie, SNP MSP for Edinburgh Southern said this was an excellent example of how versatile and robust businesses in Scotland are, even in hardest of economic times.
Mr Eadie said: "This is evidence of Edinburgh's ability to adapt to changing economic conditions and is a credit to the people who live and work here.
"Scotland has three cities in the UK's top ten and stands out as the highest performing nation.
"This news along with the locating of the Green Investment Bank here in the city are reasons for optimism and I am confident this will lead to more companies emerging and investing in Scotland's capital."
Unemployment is a crucial factor according to the study. Government figures for 2010 show unemployment in London stood at 9.1% while in Edinburgh it was 6.3%.
Mr Waterman added: "It might sound obvious, but people who are out of work do not contribute to the economic wealth of the country. London's comparatively high unemployment rate will have had a sharp impact on its wealth-creating potential."
According to UHY Hacker Young, GVA for the British economy as a whole contracted by 2.7% in the year January 1 2009 – 2010.
The average person in the UK generates £20,341 per year.