Samhuinn Festival lights up Edinburgh's Royal Mile
Celebrate the coming of the Winter season at this year's Samhuinn Festival on Wednesday October 31 from 9pm.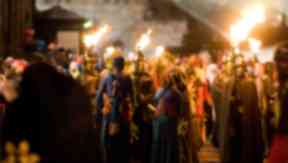 In its 25 year anniversary, Samhuinn Festival will light up the Royal Mile with a torchlight procession from the Castle Esplanade to Cathedral Square.
With fire sculptures, drumming, storytellers and costumed performers, the night promises to be something very unique. The Beltane Fire Society will tell the story of Samhuinn as Summer and Winter battle in front of you illuminated by fire.
The festival was celebrated as the Celtic New Year, yet was established long before. It dates back to the end of the summer period when shepherds were bringing in their herds from summer pastures to lowland fields for protection.
Samhuinn is known to have an association with death, as nature begins to die and many believed this night was 'the night of the dead'. Fittingly therefore, it is celebrated around the Halloween period. Legend has it, that this night was a time for spirits of the departed to pay one last visit to their relatives before crossing over to the other side and people used to believe they needed protection from the unwanted spirits and faeries. This evolved into the tradition of modern Halloween wearing masks and outfits to disguise you from the spirits.
The event takes place on Halloween, October 31 from 9pm to 11pm.
Samhuinn Festival is free to attend and as Zander Bruce, co-Secretary for BFS and co-Group Organiser for Samhuinn Support Team, explained: "I like to see it as a community event to mark the change of the season. You can say welcome to Winter and goodbye to Summer."
The Samhuinn Festival is the opposite of the Beltane Fire Festival which welcomes the Summer into the City.
This year public involvement is a key aspect to proceedings, Bruce said: "It used to be more of an alternative option and people only heard about it through friends. Now thanks to social media we are able to reach a wider audience. We want to make sure the public are involved via Facebook with tagging in photos, social media is helping us a lot."
As well as the constant entertainment on the night, Bruce said: "We will have people there who are happy to chat about what is happening on the night". As the group understand the event can be quite daunting for those who have no idea what is going on around them in the hectic two hours.
For those who have never experienced the diversity of performances at Samhuinn, Bruce explained: "It's something very different, it heartens back to the different aspects of Celtic mythology and symbolism." Incorporating varied world beliefs, the celebration manages to reach a wide audience through a variety of live art-forms.
The night itself takes around two months of planning which Bruce said: "It's a long time for a two to three hour event." With 190 performers and volunteers this year, there is a lot going on that people do not think about. There is not only a stage to build, but pyrotechnics to plan."
At the beginning of the event, Bruce explained on the night everyone involved used to turn up and see what happens, but now the group host a run-through event every year to make sure everything will go to plan. Bruce joked: "Of course there will be random spontaneous moments throughout the night, you can expect a little bit of chaos".
This year, there will also be an after party event at Espionage for performers and friends. As Bruce said: "The after party will be a chance for everyone to chill out relax and welcome Winter."