The Counting House has a licence to thrill with La Mascarade Bond
This year's La Mascarade ball will be themed around James Bond classic, 'Casino Royale'.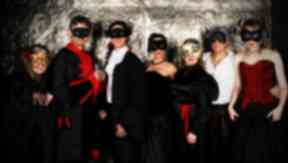 Get glammed up and masked for a night on the town - James Bond style.
Edinburgh-based events management team Glorious Events is hosting a masquerade ball at The Counting House, and 007 is the theme.
It is a character close to the heart of event organiser Jenny Crocker. The group's story all started with one of Bond's favourite pastimes, poker.
She said: "Neil McClory (partner in Glorious Events) and I met a few years ago when we were playing poker.
"We became friends and both enjoyed going to events in our spare time. A few years ago, we realised on Halloween that the season is so huge in America, but here it's mainly based around children. We wanted to bring an adult party to the city."
Spotting a gap in the market for a masquerade ball, they launched their debut masked ball at The Ghillie Dhu last year.
This year, however, the ball has changed location to the Counting House. And with the latest James Bond instalment Skyfall soaring dizzying heights in the box office, the theme had to be Universal Exports top employee.
Jenny said: "We themed the event around the SkyFall release as it's so popular and everyone was talking about it.
"We looked at events coming up around the Halloween season and thought we would tie into the release as everyone was so excited about it."
The idea is to provide the best grown-up events in the capital as they realised there are few events pitched purely to an adult audience with focus across the city on families. The group base their party events around Halloween, but have had to work with venues to secure a suitable date.
The team will transform The Counting House into a Bond-themed haven complete with a small casino. The banqueting hall which has been in use as an entertainment venue since 1749 will continue on the traditional aspect.
On choosing a venue, this year they decided to look around during the Edinburgh Fringe Festival.
Jenny said: "We visited all the venues to find one that would suit the event and the Counting House was perfect."
Guests will be welcomed by actors dressed as James Bond movie characters on entering the film inspired night.
Jenny explained: "A casino will be set up just like the film so people can feel they are involved in the action."
The night will mix entertainment, drinking and dancing with a magician, singer and DJ. This year's event is also sponsored by Smirnoff Black Vodka, and all guests will be treated to a complimentary cocktail on arrival.
Jenny said: "There is no end to the entertainment. You can expect an evening of entertainment with a glamorous feel. There will be a few surprises and twists on the night, it will not be your usual night out."
Dress code for the night is formal and masks are mandatory, if you do not have a mask hiding in your closet, the group will be selling plain masks on the door for guests.
Jenny said: "As well as the glamorous look with cocktail dresses and tuxedos we also want to try and encourage people to dress for the Bond theme, so hopefully we will have a few Bond villains."
Jenny also promised a few special guests on the night, but would not reveal who they are.
Next year, the group already have two events planned and are aiming in the not so distant future to become a renowned company in Edinburgh for adult events.
The ball will take place on Friday November 9 from 7pm and tickets are available online.