Prepare your festive list as Stockbridge Christmas Market is coming to town
Stockbridge Market have announced their three day festive themed market with food, drink and crafts.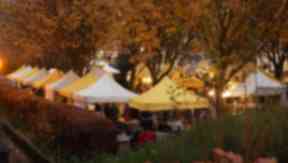 Want to banish those Christmas shopping worries at a one stop pop-up 'shop' in the City?
Run by duo Beth Berry and partner Jean-Francois Toulouze, The Stockbridge Market was established in September 2011.
Jean Francois has been a street trader in Edinburgh for 20 years and was a stallholder at a previous City market which stopped running. He decided to try and establish his own market and coincidentally at the time, his partner Beth was made redundant from her Business Analyst job. It was from this moment the family partnership was born.
Over two years later with planning permissions, licences, equipment and logistics in place, the market launched in September 2011. Starting with just 11 traders on that cold Sunday morning, the number has now risen to 42 with a wealth of product variety.
The market runs every Sunday from 10am to 5pm with local traders and producers.
There are many farmers markets scattered around Edinburgh, yet this is one, as owner Beth puts it, "with a continental heart".
You will be able to get your weekly shopping essentials including bread, meat, fish, eggs and cheese. But with fresh pasta, sauces, and vegetables there is enough to make a delicious three-course meal, if this should take your fancy.
Fancy something a little sweeter? Cakes, crepes, fruit and macaroons are also available to taste and buy. There is usually a little creperie van stationed at the market, so you can indulge in a freshly made pancake...or crepe if you feel continental.
Alongside all the food options, locally made crafts and gifts are available with candles, jewellery, soaps, body care, clothes and more.
You can add to your collection of vinyl at a music stall or simply walk amongst the sellers listening to the market banter and have a great day out.
From December 21, the Stockbridge Market will take on a Christmas theme until December 23 residing at its usual spot in Jubilee Gardens.
Offering everything from your Christmas dinner to gift ideas, the market plans to provide the perfect festive shopping experience.
Beth said: "Stockbridge is a vibrant village in the City. Rather than queuing in a supermarket we think this provides a friendly sustainable shopping option with quality produce."
You can even walk around the stalls sipping some hot mulled wine to really get into the Christmas mood.
Beth said: "The producers will be taking orders for your Christmas dinner and you can pick it up straight from the market. We are all about having the produce direct from the local producers to the public."
If you need some Christmas gift inspiration, Beth said there is an idea that always goes down well.
Beth said: "With the food and drink mix, we are also offering the public the chance to make their own Christmas hampers.
"We will have baskets and you can go around the market and create your own basket for a present. It is a great gift idea; you can only cope with so many ornaments whereas you can never really go wrong with food."
It is always difficult to find an allergy-free option for your Christmas Dinner. At the market, there will be a stall selling special gluten free Christmas cake and options for your dinner.
If you have fussy eaters in the family, there is no need to worry as you can taste the produce before you buy it – an experience that rarely or never occurs at your local supermarket.
Beth explained the market provides more than a stroll around the stalls. It is a community event which brings together people who would not normally meet.
Beth said: "It is a very personal experience and has a great atmosphere. Everyone is chatting to the stall owners and to each other about what they have tasted or bought.
"There are tables and chairs where people can sit down and chat to their neighbours, it's a great family event. You can even grab lunch as we have hot food available.
"It's very different from a supermarket."