Spirituality and peace festival launches tenth anniversary programme
The Edinburgh International Middle Eastern Spirituality and Peace Festival marks a decade of celebration.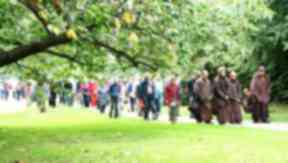 The Edinburgh International Middle Eastern Spirituality and Peace Festival celebrates its tenth anniversary this year and has lined up a series of events and workshops to mark the occasion.
Launched in 2003, the festival aims to bring together people from a wide range of spiritual backgrounds alongside people working through peace, conflict and reconciliation. 
Starting on Thursday, February 7 and running until Sunday, March 17, the tenth anniversary programme will focus on 12 themes including spirituality, interspirituality and intraspirituality, arts and culture, engagement with communication media and education and learning.
Workshops focusing on health, well-being and healing through spiritual dance and movement have also been arranged.
The festival is organised by Neill Walker, who is also the co-founder and co-director of the Festival, with programme curation by James McKenzie.
Neill Walker said: "The festival positively affirms the diversity contained within the spiritual and cultural traditions of the Middle East, as well as those here in Scotland.
"The festival takes no fixed position on any political, ethical or cultural question. We intend rather to create a forum in which we can listen to one another deeply and learn with open minds and hearts.
He added: "The emphasis of the festival is on spiritual, secular, educational, artistic and cultural approaches to peace and mutual understanding."
A number of partner events have been lined up too.
The Middle Eastern Film Festival is a partnership between the festival and the Filmhouse Cinema and is running from February 7 to February 21.
The films will showcase Palestine through the lenses of Palestinian and Israeli film-makers celebrating contemporary Iranian cinema.
Anita Clark, Portfolio Manager for Festivals, Touring and Dance at Creative Scotland, said: "The Middle Eastern Film Festival gives Scottish audiences the opportunity to experience the perspective of Middle Eastern film makers and artists in this time of incredible change and current conflux in that area."
Film Festival regulars Nabil Ayouch and Merzak Allouache will return this year with renowned productions including 'God's Horses' and 'The Repentant'.
Partner events will also take place at The Scottish Storytelling Centre with a special dance and theatre production, Baghdad Night. The production will present an evening of Iraqi folk music and Kurdish songs with Mohammed Nafea and numerous famous Iraqi musicians.
The night will also showcase Iraqi belly dancing and the chance to try traditional Iraqi food.
Other events taking place include a photography exhibition at the Filmhouse Café on Lothian Road showcasing 17 photographs and artwork by children of the Gaza Strip who have been affected by the surrounding conflicts.
There is also a meditative walk through Edinburgh's Royal Botanic Gardens arranged for March 17. The silent walking meditation is an open-event led by lay members of the Edinburgh Sangha who follow and practice the teachings of Zen Buddhist master Thich Nhat Hanh.
Individual events will continue to run throughout the year with workshops planned until December 7.