Drop in and stitch up a storm at the city debut of the Yarn Festival
The debut Edinburgh Yarn Festival will take place at Drill Hall with a range of stalls, classes and displays.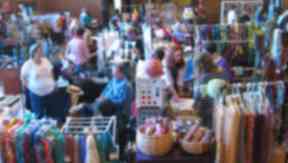 Your usual festival conjures up images of music, alcohol and camping.
But swap the alcohol for cups of tea, the music for the chatter of locals and the sea of tents for endless reels of wool and you have the Edinburgh Yarn Festival - which is set to knit up a treat.
The new concept has been launched by three local women who love to knit.
One of the organisers, Jo Kelly, said: "The three of us are all friends and we met through a knitting group.
"These events exist all over country but there is nothing in Edinburgh like it. We all knew people in the industry so we pulled together our contacts and decided to do it ourselves."
The event is a meeting place for those interested in knitting with a selection of over 30 stalls and a range of knitting advice.
It is the first time any large knitting event will take place in Edinburgh.
You can learn more about lace knitting, buttonholes, joining yarns, working with colour and learning how to pattern the latest fashion.
Jo said: "Our event will focus on Scottish producers. We want to keep our concentration on small business that are fairly local which is key to making our event different.
"Alongside the local suppliers we also have some of the bigger names in knitting. There will be something for all of those who are interested in knitting."
The classes on the day have already sold out but you can join an online waiting list if you are interested in taking part in a variety of lessons including knitting, crochet and spindling.
If you do not get into any session you are welcome to talk to all the suppliers on the stalls for advice and you can even sit down and have a cup of tea and a chat at the Drill Hall cafe.
You can browse stalls include yarn and fibre, buttons, patterns, samples and equipment to get you fully equipped whether you are just starting out or if you are an established designer.
Jo said: "It's a massive bright arts space and it will be absolutely full of colour, texture and the buzz of excitement.
"There has been a lot of interest, much more than any of us have thought.
"We have people coming over from Switzerland and I think it's a great addition to the Edinburgh tourist scene."
On the day, there will also be a raffle with all the stall holders donated knitting related prizes.
With the success of their first event, the group plan to make the festival an annual fixture.
Jo said: "We are just dipping our toe in the water with this event and anything we do will be much bigger in the future."
The event takes place at community hub Out of the Blue Drill Hall on Saturday, March 16 from 10am to 5pm.
Entry costs £2.