Date confirmed for Krispy Kreme store opening at Hermiston Gait
Doughnut date confirmed for first Krispy Kreme store opening in Scotland in 2013.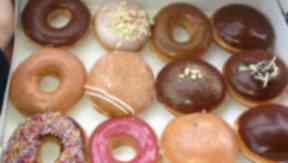 Krispy Kreme have announced that their first Scottish based store will open on February, 13, 2013 at Hermiston Gait in Edinburgh.
With doors of their drive-thru opening wide to the public at 7am, Krispy Kreme have confirmed on their website that they "can't wait to meet you all".
The company had previously announced back in March 2012 that they had plans to open outlets in both Glasgow and Edinburgh the following year as part of a multi-million pound UK expansion drive.
As their spokesman said at the time: "Cities such as Edinburgh and Glasgow would be perfect locations for Krispy Kreme".
The dates confirm plans which were reported by STV Edinburgh in August and the store is set to include a Doughnut Theatre which will give customers the opportunity to watch their sugary treats being made.
The store's opening will follow a successful marketing drive by the company which saw more than 300,000 free doughnuts handed out at 40 locations throughout a summer road trip campaign across Britain including Glasgow.
It marked Krispy Kreme's 75th anniversary of its signature 'original glazed' doughnut.
The popular sweet chain may not be the only one set for Scottish shores however, as rival chain Dunkin' Donuts also announced earlier this year that they too were considering a UK comeback.
In an interview with the Telegraph, Nigel Travis, president of the chain's parent company Dunkin' brands, confirmed that they were "pressing ahead with further store openings in Europe despite the economic uncertainty hanging over the Continent".
More details on the Krispy Kreme store can be found on the Krispy Kreme website.