Oscars mix-up pair get bodyguards after 'death threats'
Martha Ruiz and Brian Cullinan's error led to the wrong best picture award winner.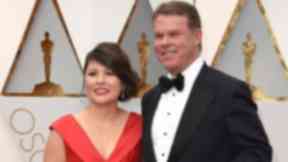 Bodyguards have been hired to protect the two accountants responsible for the Oscars best picture blunder after they reportedly received death threats.
Martha Ruiz and Brian Cullinan were dismissed and told they would never work at the awards again after mixing up the winners envelopes.
This embarrasingly led to La La Land mistakenly being given the best picture award instead of Moonlight.
Accounting firm PwC took responsibility for the shambles, saying Mr Cullinan and Ms Ruiz made "a series of mistakes" and failed to follow established backstage protocols.
Mr Cullinan tweeted a photo of La La Land actress Emma Stone from backstage, minutes before handing presenters Warren Beatty and Faye Dunaway the wrong envelope for best picture.
Academy president Cheryl Boone Isaacs said it was Mr Cullinan's distraction which caused the error.