Ed Sheeran 'nearly breaks Spotify' with his new album
Singer breaks previous record for most streams in first week of release.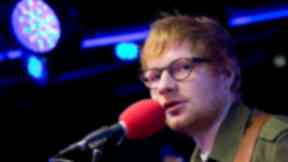 Singer-songwriter Ed Sheeran has broken Spotify's streaming record for the first week of release with his new album ÷ [divide].
The 26-year-old's third record has achieved more than 273 million streams worldwide after just five days.
A Spotify spokesperson said: "It's fair to say that Ed Sheeran nearly broke Spotify this week."
The album record was previously held by The Weeknd who reached 223 millions streams in seven days with his newest collection 'Starboy'.
Sheeran's popularity was confirmed within the first 24 hours of his new album's debut after it racked up 232,000 physical and digital copies, more than his previous album, X, sold in its first week.
The biggest first-week sales of any album in 2016 were for David Bowie's Blackstar, which sold 143,455 in one week last January.
Sheeran is certain to claim the number one album top spot this week when The Official Chart is announced.
All 16 of Sheeran's new album tracks went into the Spotify Global Top 50 streamed tracks and made up the entire top 16 songs in the UK and Ireland-specific charts.
The 16 tracks on Divide made the Spotify top 50 in 11 other markets - Canada, Australia, New Zealand, Czech Republic, Estonia, Greece, Ireland, Netherlands, Poland, Slovakia and Switzerland.
Sheeran is currently the most-streamed artist on Spotify, with more than 45.5 million monthly listeners.