Hammond 'fine' after bike crash filming The Grand Tour
The presenter confirmed he 'banged his head and everything else' in the accident.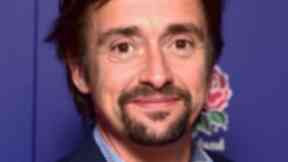 Richard Hammond has assured fans he is "fine" after falling off a motorbike while filming for The Grand Tour.
The TV presenter confirmed he fell off the bike "many times" and "banged his head and everything else".
"But life goes on," he added in a post on DriveTribe, the social media platform founded by Hammond and his co-hosts Jeremy Clarkson and James May.
Hammond was filming in a remote part of Mozambique in east Africa when the accident occurred, The Sun reports.
Jeremy Clarkson had told the newspaper: "He really did hurt himself quite badly."
But asked if Hammond went to hospital, Clarkson joked: "We don't do hospitals."
It comes 11 years after Hammond suffered life-threatening head injuries following a high-speed crash as he filmed for BBC's Top Gear in 2006.
The presenter was in a coma for two weeks following the 288mph accident, but made a full recovery.