Emmerdale actress Lucy Pargeter welcomes twin girls
The babies are 'happy and healthy', a spokeswoman for the soap has confirmed.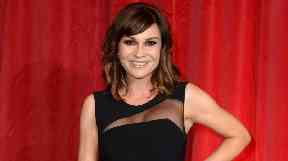 Emmerdale star Lucy Pargeter has given birth to twin girls.
The star, who has been in the ITV soap for 15 years, welcomed the new arrivals last week with her partner Rudi Coleano.
The couple already have an 11-year-old daughter, Lola.
"Lucy Pargeter and Rudi Coleano are delighted to announce the birth of their twin girls who were born on Thursday April 13," an Emmerdale spokeswoman said.
"All are happy and healthy and Lola is delighted to have finally become a big sister."
Pargeter, 40, plays Chastity Dingle, who has been temporarily written out of the Yorkshire Dales-set show while she is on maternity leave.
Chas has been taking care of Liv Flaherty (Isobel Steele), her son Aaron's (Danny Miller) half-sister while he is in prison as her mother lives in Ireland.
She decided to take Liv to see her mother after she had an accident.
Pargeter said recently: "It'll be me gone for a while, but not too long, depending. I'll be back very soon.
"Fictionally, I'm in Ireland, having a lovely summer."