Eurovision's Conchita cancels festival show in visa row
The Austrian singer's band of Syrian refugees were denied entry to the UK.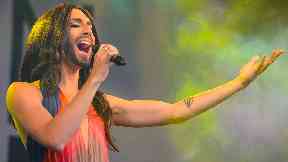 Bearded Eurovision winner Conchita Wurst has cancelled her Edinburgh Festival performance after her Syrian band were denied visas.
The Austrian singer was expected to perform at an event on Friday celebrating the importance of migration to European culture.
The drag performer refused to travel after her three-man band was denied entry to the UK, however.
Conchita was due to headline the New European Songbook with Basalt, whose members settled in Austria after fleeing the war in Syria.
In a statement, the singer said: "Due to the unfortunate fact that my friends Amjad, Noor and Almonther from Basalt were unsuccessful in their visa application to enter the UK, I am not performing at the Edinburgh International Festival tonight.
"We are all very sorry as we were looking forward to being there.
"Alternatively, we're recording a video message here in Austria today and we wish everyone performing, visiting and organising the festival a great evening. We're with you in our hearts!"
'We are all very sorry as we were looking forward to being there.'

Conchita Wurst
Conchita - whose real name is Tom Neuwirth - rose to fame after winning the Eurovision Song Contest in 2014 with the song Rise Like a Phoenix.
Festival director Fergus Linehan said Basalt's were the only visa applications he was aware of which had been refused this year.
"We're very disappointed, especially given the particular symbolism of this concert, which was about how people arriving in cities enrich our cultural life," he said.
"We'll always try up to the last minute but the application comes from the individual, we can't apply on their behalf.
"We said to Basalt and Conchita that if we can find any date from now until the end of the festival we'll try to accommodate them."