The Great British Bake Off 2017 contestants announced
The baking competition returns to screens next week on its new home on Channel 4.
The revamped Great British Bake Off returns next week on Channel 4.
Prue Leith will be joining Paul Hollywood as judges, while Sandi Toksvig and Noel Fielding will serve as hosts, following the departure of Mary Berry, Mel Giedroyc and Sue Perkins.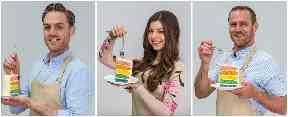 Tom (29), Edinburgh
Tom is an architect in Edinburgh who was taught to bake by his mother, June, a home economics teacher.
He enjoys fresh water swimming and horse riding in his spare time.
Kate (29), Merseyside
Kate has only been baking for two years, the rest of her time taken up with work as a health and safety inspector, and her hobby as a blacksmith.
Steven (34), Hertfordshire
Steven has a background in marketing and has been baking for 25 years. He credits his mum as instilling the cooking passion in him.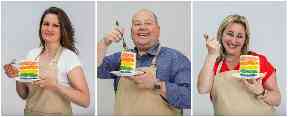 Sophie (33), Surrey
After graduating with a masters in Psychology, Sophie joined the British Army. A one-off attempt at baking a friend's birthday cake lead to a passion for cooking.
James (46), Essex
James works as a banker, living in Essex with his wife, two sons and three chickens. His dad taught him to bake over 40-year-ago.
Stacey (42), Hertfordshire
Former school teacher and mum of three Stacey credits her gran for her love of cooking. Stacey likes to incorporate her Jewish heritage into baking.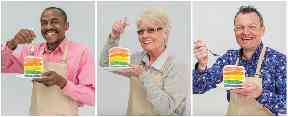 Peter (52), Essex
IT programme manager Peter has been baking for eight years. Born in South London, Peter spent most of his childhood in Nigeria with his parents, moving back to the UK when he was 24.
Flo (71), Merseyside
Flo is Bake Off's oldest ever baker. The retired factory worker took up cooking just two years ago after her husband passed away.
Chris (50), Bristol
Chris works as a software developer, who is obsessed with the science behind baking. He likes to develop healthy but unusual taste combinations.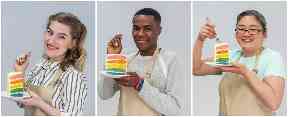 Julia (21), West Sussex
Originally from Kemerovo, Siberia, Julia lives with her husband Matt in West Sussex and taught herself to bake from a young age.
Liam (19), North London
Student Liam has earned the nickname cake boy among his university friends, and regularly bakes with his younger nephews.
Yan (46), North London
Yan works as a laboratory research scientist during the day. Ten years ago, while working for the NHS, Yan took up baking to fill her time.