Sam Smith reveals all about new song Too Good At Goodbyes
The singer has 'never been more single' in his life but will draw less on heartbreak.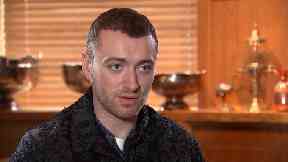 Sam Smith revealed his new single is about a breakup with an ex-boyfriend - but said he'll be drawing less on his own heartbreak in his upcoming album.
The singer spoke to ITV News as he released new single Too Good At Goodbyes, the first material he has put out in nearly two years.
He told Arts Editor Nina Nannar that he's "never been more single in my life" but was trying to focus on becoming comfortable in his own skin.
I've never been more single in my life. But I'm happy single, which is good. > I'm really concentrating on my relationship with myself at the moment. And I feel like I'm starting really starting to get to like myself for the first time, which is nice.

Sam Smith
Smith also hit back at critics who suggested he has lost too much weight recently, saying: "Well, I haven't so that's that, basically.
"I know I'm at a healthy weight."
The singer said he wrote his latest single after a breakup that he said left him at the point of emotional "breakdown".
"I have not been the luckiest when it comes to love and I think that's quite obvious," he joked.
But much of his upcoming album draws draw on other people's stories on so "I don't have to write about me and my sadness".
Performing works that drew so closely on feelings and life had been "emotionally exhausting" during tours, he said.
He also opened up about his battle with self-esteem, saying he was "really hard on myself" and had struggled with his body image for years.
"I've always had an issue with my weight - I really really love food, I don't have a body where you can eat everything and not out on weight. So I just wanted to be healthier," he said of his recent dramatic weight loss.
Smith decided to take an extended break from music to spend some time with friends and family after suffering burnout.
Fame is "actually really not fun", he said. While stressing that he loves performing and his fans, he adds "everything else it's not real, and no one should ever aspire to that".
Nevertheless, he said he's looking forward to getting back to work.
He said: "I've had an amazing year of relaxing, but it's got to the point where I'm like, I need to work because...I think everyone just thinks I'm unemployed!"