Manchester Arena bomb victims remembered as venue reopens
Families affected by the bombing and some of those injured in May were among thousands who attended.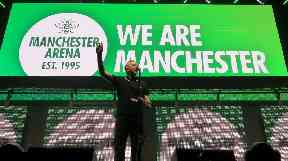 Thousands of people have attended a benefit concert at Manchester Arena to mark the reopening of the venue for this first time since a deadly suicide bombing there in May.
The sold-out event set out to honour those affected by the attack, welcome back live entertainment to the venue and raise money for a permanent memorial for the victims.
About 14,000 people attended, among them families who lost loved ones, as well as those injured in the suicide bombing three months ago.
Charlotte Campbell, whose 15-year-old daughter Olivia was killed in the attack, told ITV News she was attending to "show defiance" to the kind of people who would carry out such an attack.
"It's a bit nerve-wracking at the minute. A bit upsetting. But we had to do it," she said.
Inside the Arena, attendees clapped and cheered as the names of the those killed in the bombing were read out by the mayor of Greater Manchester, Andy Burnham.
Mr Burnham told the crowd: "Thank you to the city for coming together. Thank you for being who you are. We are Manchester, a city united, nothing will ever change us, nothing will ever divide us."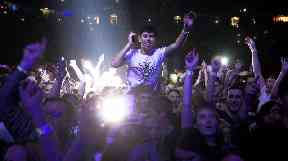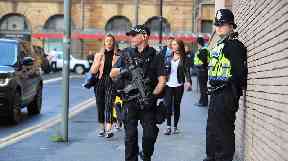 The blast in May, caused when 23-year-old Salman Abedi set off a suicide bomb among fans leaving an Ariana Grande concert, killed 22 people.
It also badly damaged the Arena, which has been only partly renovated ahead of the reopening.
Ahead of the concert Manchester Arena issued a photograph of the renovated hall where the attack took place, in the hope it might prepare those affected by the attack to return to the scene.
A team of trained trauma specialists and mental health professionals were also on hand at the event.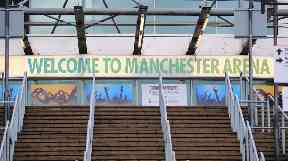 Those attending faced heightened security, with armed police in the area around the venue.
Among those due to perform at the concert - titled "We Are Manchester" to shows the city will not be defeated by terrorism - were Noel Gallagher's High Flying Birds, Courteeners, Blossoms, Rick Astley and Pixie Lott.
Poet Tony Walsh, who performs as Longfella, also read out his poem 'This is the Place', which moved crowds to tears at a vigil outside Manchester town hall the day after the attack.