Disney Channel to have first gay storyline in Andy Mack
Cyrus Goodman will reveal he has feelings for another boy in his friendship circle.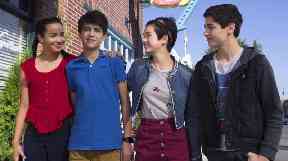 The Disney Channel is set to make history with the network's first coming-out storyline.
One of the key characters on teen show Andi Mack, Cyrus Goodman (played by Joshua Rush), reveals that he has feelings for another boy in their friendship circle.
Subsequent episodes will follow him as he comes to terms with his identity, and his struggle over how to tell his new girlfriend.
In a statement, the Disney Channel said the show revolved around young people in the process of "figuring out who they are", and said it took "great care in ensuring that [the show is] appropriate for all audiences and sends a powerful message about inclusion and respect for humanity."
Cyrus is not the first LGBT+ character to appear on a Disney Channel show, but he is the first to follow a story arc focused on a character's journey as they discover their identity.
The storyline was praised by LGBT+ monitoring organisation GLAAD, whose president Sarah Kate Ellis said it reflected the "lives and lived experiences" of young people around the country.
"Television reflects the real life world and today that includes LGBTQ youth who deserve to see their lives depicted on their favorite shows," she said.
"Disney has been a leader in LGBTQ inclusion and there are so many young people who will be excited to see Cyrus' story unfold."
The Walt Disney Company added:
Our stories are timeless because they speak to the heart; our characters appeal to children across gender, ability, and experience because they're defined by kindness, loyalty, humor, courage, wit and other traits that make a good friend. Disney remains committed to continuing to create characters that are accessible and relatable to all children.

The Walt Disney Company