Kez watch: Dugdale tanks on her I'm a Celebrity debut
The former Scottish Labour leader has had a tough start to life in the jungle.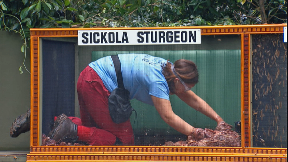 It was the moment a small number of us had been waiting for.
Former Scottish Labour leader Kezia Dugdale finally entered the jungle on I'm A Celebrity... Get Me Out Of Here! on Thursday.
The news she would be taking a holiday from her work as an MSP to feature in the hit reality show broke on Sunday, to the consternation of some of her party colleagues.
The rest of us were just irritated that it took so long for her to appear on our screens after the initial announcement.
Following a brief teaser at the end of the programme on Wednesday, the Lothian MSP was straight in at the fishy deep end on Thursday's show, satisfyingly demeaning her former office.
Brief electoral success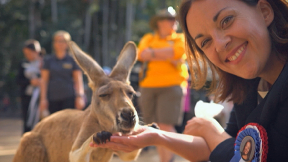 Kezia was in her element as she was first introduced as both she and fellow newbie DJ Iain Lee presented competing campaign videos to the other I'm A Celebrity contestants.
Her video was a hit, showing her cuddling a koala and feeding a kangaroo while also touting her toughness.
It might have helped that the other guy openly said in his own video that he was basically rubbish.
Former MEP and Boris Johnson's dad Stanley was heard to ask during Kezia's video: "Who is this?" To which Rebekah Vardy responded: "Someone from the Labour Party." Stanley looked none the wiser.
When it came down to which of the new contestants to team up with, the celebs opted unanimously for Kezia. That was their first mistake.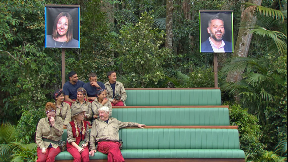 Nationalist fish guts
Kezia and Iain were then pitted against each other in a nasty Bushtucker Trial involving five tanks full of nightmares and - to compound the horror - named after politicians.
To add insult to injury, the first cage was a sea of fish guts wittily dubbed Sickola Sturgeon.
Kezia was stuck in it for ages. There's a political metaphor in there somewhere.
Iain had found the red star he needed to move on to the next tank and then the next while Kezia was still scrabbling around in the Nationalist fish guts.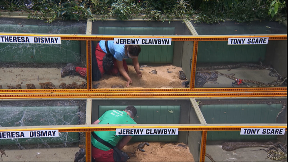 Eventually the ex-Labour leader caught up and the pair were neck-and-neck by the time they got to the fourth cage, Jeremy Clawbyn, which had crabs in it.
Due to a prolonged confrontation with one of the crabs, Kez took too long to move on to the final obstacle - the snake-filled Tony Scare tank - and Iain wrapped up the victory.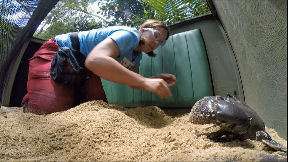 Carping at the sidelines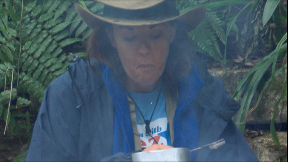 As a result, Iain was formally declared Prime Minister of Downing Creek while Kezia and her plucky band of losers were relegated to a night of penury.
Kez and her team had to dine on rice and beans and sleep on the floor at Snake Rock, carping at the sidelines while Iain became the first jungle Prime Minister and feasted on a proper meal in the nice camp.
The MSP also laughed maniacally at the discovery that the shower to wash off the smell of Sickola Sturgeon was basically a basin of cold water chucked down a chute.
Treated to her first plate of rice and beans, Kezia remarked: "That is grim. It's not offensive but it's not nice." Bet she's missing the Holyrood canteen now.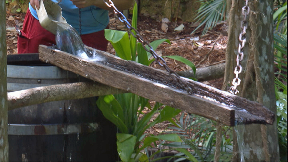 Shot at redemption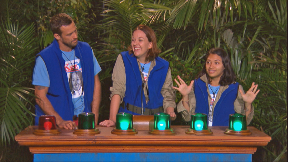 The final segment of the show saw Iain's team face off against Kezia's in a quiz show format.
There was a secret twist, however, Team Iain - amassed from poached members of Team Kezia - had to win to get a care package for someone in the Kezia camp.
If Kez's team won, on the other hand, no one would get anything. But they didn't know that.
Luckily, and true to form, Team Kez lost again. We'll have to wait for Friday night's show to find out who gets the care package.
Download: The STV News app is Scotland's favourite and is available for iPhone from the App store and for Android from Google Play. Download it today and continue to enjoy STV News wherever you are.