Kez watch: Dugdale downs bull's penis smoothie on live TV
The pig and ostrich anus concoction was more than the ex-Scottish Labour leader could stomach.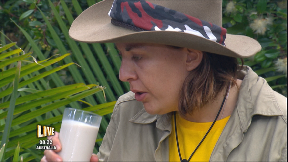 Kezia Dugdale has gone from the loftyish heights of leading Scottish Labour to struggling to down a foaming smoothie made of bull's penis and another of ostrich and pig's anus on live TV.
We've all been there. Dugdale officially arrived on I'm A Celebrity... Get Me Out Of Here! on Thursday and has already been through the jungle mill.
Living exclusively on rice and beans for the first three days, the MSP waded through fish guts on her arrival and had to use a barrel of cold water and a chute as her shower.
But over the weekend have things started to look up for Kezia? Let's get you all caught up.
Honourable draw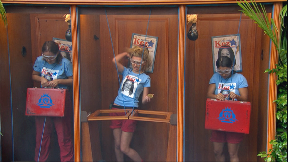 The final round in the battle between Kezia's camp and fellow newbie Iain Lee's camp took place on Friday.
The Balancing the Budget task had two teams of three - one involving Kezia - trying to stack the most coins on top of a table they controlled with levers styled as red briefcases - all while being rained on by creepy-crawlies.
While Kezia's teammates wailed and gnashed their teeth at the flood of falling insects, the former Scottish Labour leader - head bowed - remained strong and silent.
The result ended up a draw. When the camps were finally reunited, there were not enough care packages to go around and Kezia missed out. "That's fair enough, I've only been here two days," she remarked stoically.
To top off a banner day for Kezia, she even sneaked in a political joke, asking Boris Johnson's father Stanley if he could tell her what Labour's policy on Brexit is.
Saturday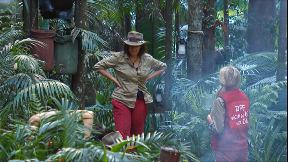 She didn't really do anything on Saturday.
Speaking French on a pontoon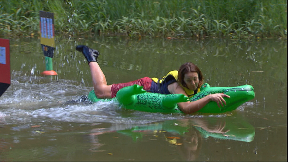 Kezia was back in action on Sunday, first taking part in a Dingo Dollar challenge with fellow contestant and Made in Chelsea star Toff.
The task involved one of the team reading out foreign language instructions for things to pack in a suitcase on board a pontoon in the middle of a lake.
The other person had to swim around the lake to various translation guides and then to shore to retrieve the correct item before paddling back to the pontoon to pack it.
Kezia struggled with being the listener and spent much of the task as the retriever.
"I just couldn't get my a**e on to the pontoon," she explained.
With a little help from Toff, she eventually managed to do so and subsequently proved she knew the French word for grapefruit. They also won a treat of salt and vinegar crisps for their campmates.
Penis and anus smoothies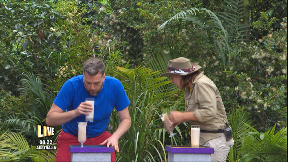 The Sunday programme ended with a bumper live Bushtucker Trial - and this one was a battle of the sexes.
Kezia was once again pitted against DJ Iain Lee and the pair were challenged to see who could drink two smoothies the fastest - one concocted of bull's penis and the other of pig and ostrich anus.
It did not go well. She struggled from the get-go and was soundly beaten. A nation reeled in shock at the sight of a Scottish person losing a drinking contest.
Kezia, meanwhile, was accused by Ant and Dec (no less) of seeming to give up and costing the girls' team valuable points.
She must now redeem herself the only way the jungle allows - by doing something completely horrible. Scotland holds its breath.
Download: The STV News app is Scotland's favourite and is available for iPhone from the App store and for Android from Google Play. Download it today and continue to enjoy STV News wherever you are.