Kez watch: Bossy Dugdale gets nippy on I'm a Celebrity
The ex-Scottish Labour leader bossed around boxer Amir Khan on Monday's episode.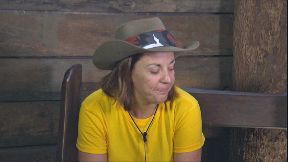 Five days into life in the jungle, Kezia Dugdale is starting to get a bit on edge.
It's tough to blame her. Since the former Scottish Labour leader's arrival on I'm A Celebrity... Get Me Out Of Here! on Thursday, she has had to subsist mostly on rice and beans.
Her diet was changed up a little on Sunday, with some salt and vinegar crisps for starters - but unfortunately dessert was bull's penis and ostrich and pig's anus smoothies and she didn't enjoy them very much.
Kezia's failure to down the cocktails meant a defeat in the live Bushtucker Trial against DJ Iain Lee - and left the girls' team facing an uphill battle to win the battle of the sexes and claim an almighty prize of a team feast.
'Close to being a bit nippy'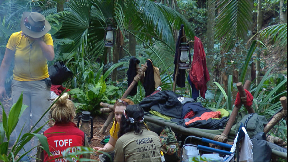 It seems like the Lothian MSP might not be a big fan of Mondays.
Kezia opened the episode by taking some of her fellow contestants to task for being slightly derelict in their duties around camp.
First to face her wrath (prefaced with a classic "This is going to sound really rude and really cheeky, but...") was The Saturdays singer Vanessa White for not cleaning the pans properly.
Speaking privately to camera, Kezia said: "There's a lot of duties that need to be done - stuff just needs to get done - and it's frustrating me and it's making me a bit angsty.
"I've found myself getting a little bit close to being a bit nippy with people in a way I don't want to be."
Bossing around a boxer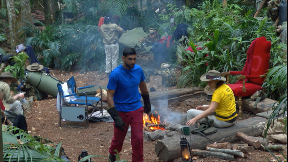 Next up to be confronted with Kezia's Monday grumps was boxer Amir Khan.
Opening with a vintage "Amir, I feel like I'm bossing you about this morning, I'm so sorry", she proceeded to boss him about, ordering him to put a pot of water on the fire to boil. "Good job," she told him after.
He was less than impressed. "So Kez has got me working like crazy," the boxer said to camera. "I just take everything in and don't let it get to me."
Kezia, for her part, has a few people in her sights for a less-than-glowing review.
"Yes, there are people in particular who are not pulling their weight but I shouldn't name them," she said.
"I'm going to wait until I properly lose it before I name them." Oh, that should be fun then.
Victory for the girls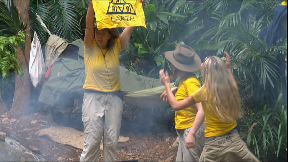 As part of the battle of the sexes, the girls faced off against the boys in a challenge involving counting stones. The girls were victorious.
The boys' defeat was compounded by subsequent bickering between Iain Lee and Boris Johnson's father Stanley about their counting method.
After the stramash, Iain complained to Kezia and said he was "not buying into the cult of Stanley", to which she replied: "J'agree." Which STV News understands is French for "I agree".
The former leader of Scottish Labour turning against Boris Johnson's dad? Who would have thought?
This might be good news for the show's producers, who are said to be upset that Kezia is not causing enough debate and drama for their money's worth.
Download: The STV News app is Scotland's favourite and is available for iPhone from the App store and for Android from Google Play. Download it today and continue to enjoy STV News wherever you are.