Kez watch: Sparks fly with Amir Khan on I'm a Celebrity
The MSP and the champion boxer have bickered about fire duties... a lot.
It would not be reality TV without some awkward arguments over menial tasks.
This is what Joe Public really wants, apparently, and Kezia Dugdale delivered on Tuesday's episode of I'm A Celebrity ... Get Me Out Of Here!
The former leader of Scottish Labour has been getting increasingly tetchy with some of her fellow jungle campmates, calling them out for slacking off in their designated chores and making a lot of friends.
She had already butted heads with boxer Amir Khan a day earlier and mild tension between the pair is continuing to crackle, like a small log fire, you could say.
Firegate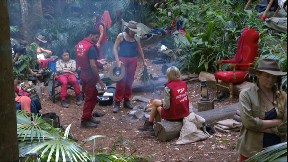 Passions were first inflamed on the issue when 30-year-old Amir told the MSP she was putting too many logs on the camp fire.
Eyes blazing, Kezia retorted: "Mate I'm going to just do it this way if that's all right, because I'm going to boil up some water and get the water sorted out. What's wrong with it the way it is?"
"Because you are wasting logs," replied the former world champion. Eventually they arrived at a compromise, but through the smoke, battle lines had been drawn.
Amir then described Kezia to a fellow contestant as "mad", before privately saying to camera: "The thing about Kez is that she doesn't like to be told when she's done something wrong, she likes her way to be the right way all of the time."
Kezia did not hide her feelings either, telling viewers: "Man make fire, that's their attitude. Boys make fire and girls just sub and help out when they are not around to keep things going."
Question of class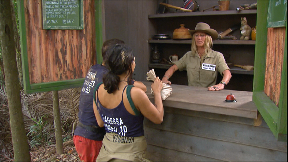 In Tuesday's Dingo Dollars challenge, the camp had to correctly answer a question about class to win a prize of chocolate truffles.
The question was what percentage of the British population feels a person's class affects their opportunities in life "a great deal".
This topic, you would think, should be Kezia's bread-and-butter as a Labour politician but she didn't make a peep as she listened to the camp ultimately arrive at the wrong answer. Bye bye, truffles.
Firegate part two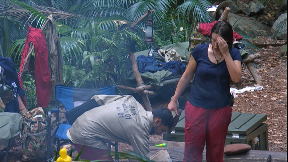 That might have been because of her fixation with the camp fire. Kezia could be seen regularly tending to it throughout the episode.
Her worst fears were realised when Amir's one-log blaze petered out to mostly ash.
"It is getting serious," said Kezia, "because there's only so many embers you can bring to life."
Thinking ahead to the prospect of a fiery row with the boxer, she asked her fellow contestants: "Will you back me up if he comes back and kicks off?" They tentatively agreed.
Amir returned and tried to get involved again in the fire duties, telling Kezia: "I trust you but I want to help you."
"I don't want your help," she replied hotly, before Boris Johnson's father Stanley suggested: "Why don't you hit him?" Kezia laughed enthusiastically.
Later she told the camera: "I'll do my bit, he can do his bit and we'll all just get along lovely."
The strategy seems to be working a treat so far.
Download: The STV News app is Scotland's favourite and is available for iPhone from the App store and for Android from Google Play. Download it today and continue to enjoy STV News wherever you are.